Party surprises Cardarellis for 50th anniversary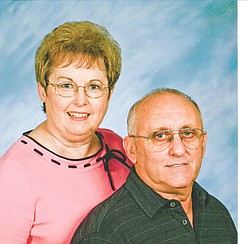 Photo
Mr. and Mrs. Bernard Cardarelli
STRUTHERS
Bernard, known as Bill, and Barb Cardarelli of Struthers were honored Jan. 26 for their golden anniversary at a surprise party at Davidson's Restaurant in Cornersurg.
Hosting the event, which was attended by family and friends, were their daughter and her husband, Cheryl and Rod Deloe, son Michael Cardarelli and Mrs. Cardarelli's sisters, Phyllis (Tom) Murphy and Linda (Phil) Hulewat. The family includes two grandsons, Zachary and Bryce Deloe.
The former Barbara Hewitt and Mr. Cardarelli were married Jan. 25, 1964, at Immaculate Conception Church in Youngstown. The couple attend Simon Road church of God in Boardman.
Mrs. Cardarelli worked for Frank Wanat D.D.S. in Poland for more than 12 years before retiring in 2004.
Mr. Cardarelli has been a roll turner for 54 years, first at Republic Steel in Youngstown and now at McDonald Steel in McDonald.