Hartmans mark 60th milestone with their family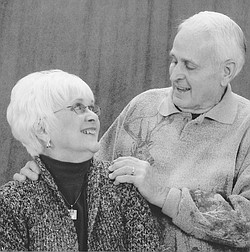 Photo
CANFIELD
Mary and Bob Hartman of Canfield celebrated their 60th anniversary by taking family pictures followed by a dinner Nov. 24 at Springfield Grille in Boardman.
Hosting the celebration were the couple's children and their spouses: Jeffrey (Susan) Hartman and Matthew (Tonya) Hartman, all of Canfield; Vicki (Bill) Moore of North Jackson; and Todd Hartman of Salem.
The family includes six grandchildren and their spouses: Janeil (Bobby) Housel, Clint (Kristen) Moore, Jake (Jennifer) Hartman, and Cody, Dylan and Tori Hartman, and three great-grandchildren: Maddie Moore, Benjamin Moore and Isabella Hartman.
The Hartmans were married Nov. 27, 1953. They are members of St. Christine Church in Youngstown.
Mrs. Hartman, the former Mary Nicodemo, retired in 1981 as a school bus driver for Canfield Schools. She also owned a drapery business for 33 years and retired in 2009.
Mr. Hartman worked as a drill press operator for Falcon Foundry of Lowellville and retired in 1994 after 32 years. He is a U.S. Marine Corps veteran.