Elton John kicks off 50-show international tour in Youngstown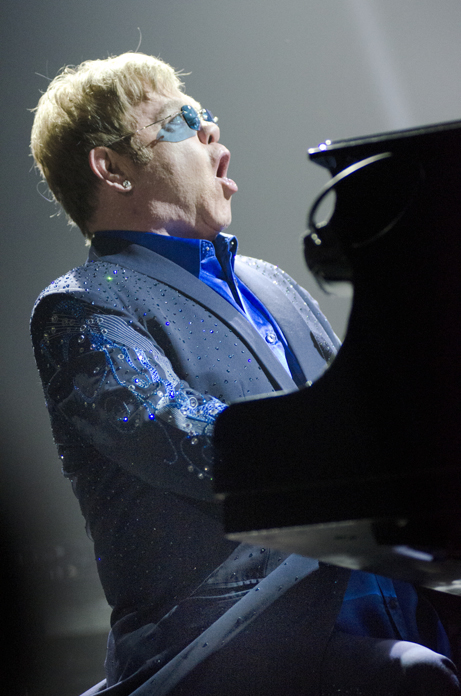 ---
By EMMALEE C. TORISK
YOUNGSTOWN
Less than an hour before Elton John took the stage Saturday night, Cindy Markijohn of Canfield still couldn't believe her luck.
Standing along West Federal Street, as hundreds of concertgoers filtered in and out of bars and eateries, Markijohn explained how she'd tried to get tickets to Elton John's previous Covelli Centre appearance on May 1, 2010, but failed.
The 7,000 seats for that show sold out in just 30 minutes.
This time, though, Markijohn was ready, with phone in hand, when tickets went on sale back in early December. About 7,500 tickets — ranging from $26 to $126 — were sold for Saturday's performance, setting an attendance record for the facility.
"He's been around for so long," said Markijohn, of the legendary singer. "I love all of [his songs], because people can relate to them."
Ron George of Canfield, who was attending the sold-out concert with Markijohn, chimed in.
"His music brings you back to something in your life," George said. "And he's in Youngstown — on a Saturday night. We're thankful to have him."
John's second appearance in the Mahoning Valley kicked off his latest tour, which includes more than 50 shows in North America, South America and Europe, and stretches through December.
The show itself began promptly at 8 p.m. with no opening act.
Elton John, decked out in a bedazzled jacket and blue-tinted glasses, launched immediately into "Funeral for a Friend/Love Lies Bleeding," followed by "Bennie and the Jets," "Candle in the Wind" and "Grey Seal" — all of which appeared on "Goodbye Yellow Brick Road," John's seventh studio album that marked its 40th anniversary last year.
Performing in the center of an elaborate stage set that featured a chandelier-like light fixture that changed colors to match the mood of each song, John spent the next few hours regaling the audience with favorites such as "Tiny Dancer," "Rocket Man" and "Philadelphia Freedom."
"Good evening, Youngstown," John said, addressing the crowd. "It's great to start off here."
Bob Kornack of Youngs- town said John's ability to begin his tour in "any big city he wanted," but his desire to do so here, proves that the performer isn't concerned just about money. His personality, Kornack said, is part of the reason he's been a fan of John's for so long — at least 40 years, since he was in grade school.
Kornack said he also loves that John's music has the ability to evoke emotions.
"I think he's unique in his sound," Kornack said. "A lot of his songs are based on his life and his experiences."
Like Kornack, Kristen Hawthorne and Jen Uhl, both of Poland, tried to describe John's music and why, exactly, they enjoy it so much. The two women settled on its "upbeat and relaxing" sound — and said they also were looking forward to singing along with some familiar songs.
"There are very few [songs of his] that I don't like," said Hawthorne, who said Saturday's show was her first time seeing the international superstar in concert. She added that she was "flabbergasted" when she heard Elton John was returning to Youngstown, and snagged tickets by continually clicking the "refresh" button — "probably 70 times" — online.
"He's a great entertainer, and he plays nonstop," noted Uhl, who had seen John perform live a handful of times before Saturday.
For Bridgett Pugh of Mineral Ridge, Kathy Linnen of Hubbard, Ann Stenger of Austintown, and Nathan Cantelmi of Austintown, Saturday was a first. All are longtime fans of John's but had never before seen him live.
Linnen said John's music is "so personable," and he's, simply, a legend. Stenger appreciated that John, like she, is from England. Cantelmi likes his songwriting.
"This is what we need in Youngstown to bring downtown back," Stenger said.
"It's amazing," Pugh added. "It's an honor to have him here."