Boardman grad training for Olympics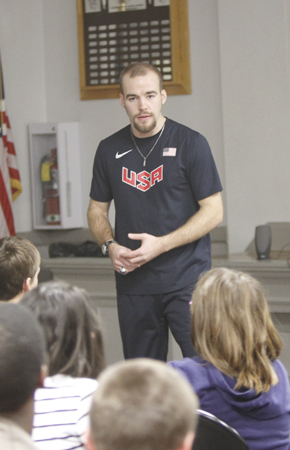 ---
By Sean Barron
BOARDMAN
It's probable that Megan Frye's ambition to become an actress or a singer will be filled with challenges, though it's a safe bet that her self-confidence will hit a higher note than the desire to quit.
"I like how he said you should never give up," the seventh-grader said, referring to Michael J. Mannozzi, a 2005 Boardman High School graduate who's training for the 2016 and 2020 Summer Olympics in Rio de Janeiro and Tokyo, respectively, in race walking, which falls under track and field.
Megan was among the students who attended a motivational talk Mannozzi gave Friday at Boardman Center Middle School on the sport, as well as on the importance of maintaining a positive attitude and self-confidence. He also discussed the value of setting high but attainable goals.
Megan added that she plans to apply such ideals to many areas of her life.
Race walking, a technically demanding event that looks similar to sprinting, requires the athlete to maintain contact with the ground at all times and incorporates a certain amount of hip action. Unlike traditional running, however, the competitor's leading leg must be straightened as the foot makes contact with the ground and remain so until the leg passes under the body.
After a four-minute video showing part of his training regimen in Cleveland, where he attended Notre Dame College, Mannozzi shared with his young audience the challenges he faced after having been diagnosed with attention deficit hyperactivity disorder. As a result, he often had difficulty paying attention in class, he explained.
Mannozzi persisted, however, and realized the value of tapping into his strengths and working to strengthen his weaknesses while maintaining faith in God and the right attitude, he told the students.
"A positive attitude is going to affect you in what you do the rest of your lives," he said, while advising the students to take school seriously.
Mannozzi also provided a brief history of race walking, which he noted has yet to gain popularity in the U.S. and Canada. Nevertheless, it has been an Olympic sport since 1904, longer than basketball, he added.
The Boardman man then demonstrated the technique for the rapt audience before doing two laps around the room with sixth-graders Maryam Rehman and Kane Wiesensee in tow.
Mannozzi's message also resonated with Justin Reedy, a sixth-grader whose long-term goals include attending college, enlisting in the Army and becoming a mechanic.
The presentation made him feel more confident about his choices, said Justin, a student of Megan Key, a fifth- and sixth-grade special-education teacher.
It's extremely difficult to make the Olympics, but having strong self-confidence and a positive outlook and foundation go a long way toward achieving success, regardless of one's goals, Mannozzi explained.
"You can be an Olympian in life," he added.
Key said she appreciated Mannozzi sharing his ability to overcome his struggles, which is a message her students can relate to and needed to hear.
"Even if you have 100 things you're bad at, find one thing you're good at and stick with it," she advised.