Miss Bertolone, Mr. Roberts will exchange vows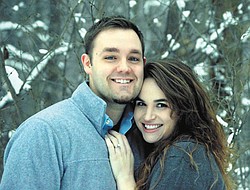 Photo
Carmen F. Roberts III and Jenna K. Bertolone
Jenna Kimberly Bertolone of Macedonia, Ohio, and Carmen Frank Roberts III of Niles are announcing their engagement.
Her parents are Kimberly and Salvatore Bertolone Jr. of Macedonia, and his parents are Carolyn and Carmen Roberts Jr. of Niles.
Crystal Brook Farms in Chagrin Falls will be the setting of the September wedding and reception. Invitations will be issued for both.
The future bride earned a bachelor's degree in applied science and allied health at Youngstown State University. She is a dental hygienist in Cuyahoga Falls.
Her fiancé earned a bachelor's degree in accounting from Westminster College. He is a business manager at Kent State University in Kent.