---
Friday, December 26, 2014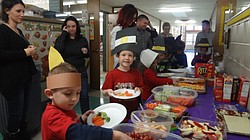 Photo
Neighbors | Submitted.Dobbins Elementary School kindergarten students Renzo Tukalo (foreground) and Nicholas Nittoli (center) went through the line for food during the Thanksgiving feast.

Photo
Neighbors | Submitted.Forty-two Dobbins Elementary School kindergarten students participated in the school's Thanksgiving feast.
By TIM CLEVELAND
On Nov. 25, Dobbins Elementary School kindergarten students celebrated Thanksgiving with a feast at the school.
The 42 kindergarten students in Penny Mayle's and Nanatte Ungaro's classes ate an array of fruits, vegetables, meats and cheeses during the feast provided by parent volunteers.
"In their second year at Dobbins, Mrs. Mayle and Mrs. Ungaro have once again continued the tradition of a Thanksgiving feast," Dobbins monitor Lois Dunnavant said. "This feast has been celebrated by their predecessors for over 31 years. It has truly become a part of Dobbins."
In addition to the feast, the children made pilgrim hats and Indian headbands. The students studied the first Thanksgiving in class and how the pilgrims and Indians worked together. A variety of Thanksgiving stories were read, including fiction and nonfiction books about turkeys.
Ungaro was asked what lessons she and Mayle were hoping to impart to the children.
"The idea behind the feast is to teach the students why we celebrate Thanksgiving," she said. "The two classes sharing in the feast served to recreate the coming together of the pilgrims and the Native Americans. The feast served as an opportunity to look at what we are thankful for in the past and in the present."
Student Massimo Patrone said the students enjoyed the opportunity to join together in the feast.
"I enjoyed having my favorite fruit, it was awesome to be with the whole kindergarten," she said.
"I enjoyed learning about the [American] Indians helping the pilgrims to plant food," Isabella DiPasqua added.