---
Wednesday, December 3, 2014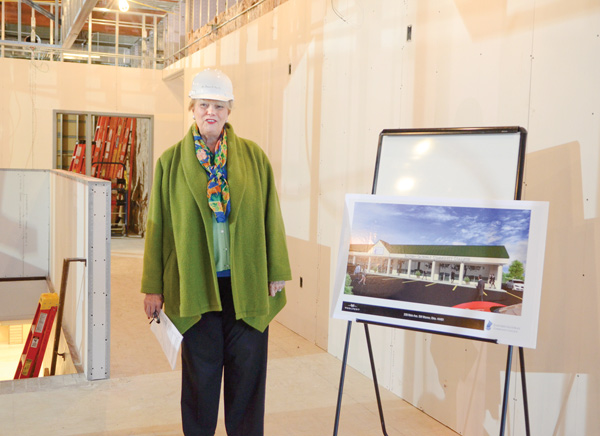 Photo
Laura Meeks, president of Eastern Gateway Community College, talks about the college's new Warren Center at 239 Main Ave. SW, which opens Jan. 12.
By Denise Dick
WARREN
Eastern Gateway Community College's enrollment in Warren is expected to nearly triple before spring with the opening of the Warren Center.
The center opens for the spring semester Jan. 12 in the former Mickey's Army Navy store, 239 Main Ave. SW. For the last few years, the college offered classes in the Atrium building, where 89 students are enrolled.
That number is expected to hit 200 for spring.
"In 2011, Congressman [Tim] Ryan [of Howland, D-13th] recommended downtown Warren for our building site," said EGGC President Laura Meeks. "He was absolutely right."
The accessibility for students and the availability of nearby buildings for expansion make it a good location, she said.
"And the third reason: Who wouldn't want to be in downtown Warren?" she said, pointing to the beauty of Courthouse Square.
Meeks cited the proximity to eateries, parking availability and ample parking as attributes of the new location. Mayor Doug Franklin also was instrumental in the college choosing the Main Avenue site, she said.
More than 300 Trumbull County residents are enrolled at EGCC including the Warren location and the Valley Center in Youngstown. That's up 36 percent from the 227 residents enrolled in fall 2013.
The $5 million Warren Center project is being completed in three phases. The first phase will open 6,500 square feet in the new building. The college occupies about 2,100 square feet in the Atrium Building.
Dante Zambrini, interim vice president at Mahoning Valley, said that when spring classes begin, the building will offer four classrooms. The largest, a computer classroom, will accommodate 45 students.
Admission/reception, lobby renovations, administrative space and a bookstore are included in the first phase. Subsequent phases will occur as growth demands.
The spring class schedule will include 52 selections including evening courses.
Higher Education Partner-EGCC Ohio LLC, a partnership between the college and the private company, recently finalized the purchase of the former store which was owned by Marty Cohen.
HEP also is the college's partner in the operation of the Valley Center in Youngstown.
Just like with the contract for the Valley Center building, HEP is responsible for the build-out of the project as well as building operation and maintenance under the contract.
The college will handle all academic decisions, and the college and HEP will make joint decisions on marketing and promotional events.
Higher Education Partners will ensure there are sufficient funds to cover 105 percent of the college's direct expenses for the project. HEP then will be able to recover its costs and overhead, plus a 15 percent service fee, from any net revenue coming from Warren Center operations.