Texas towns test industry supremacy on fracking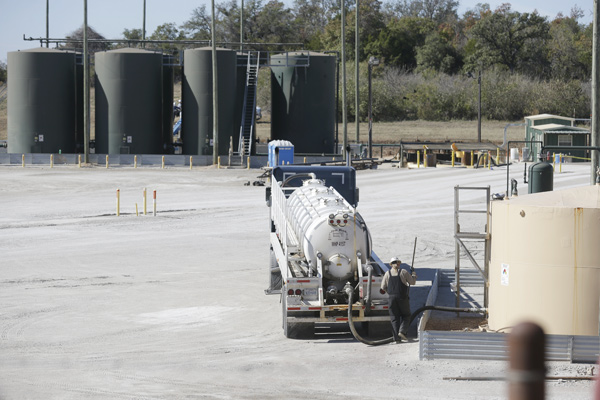 ---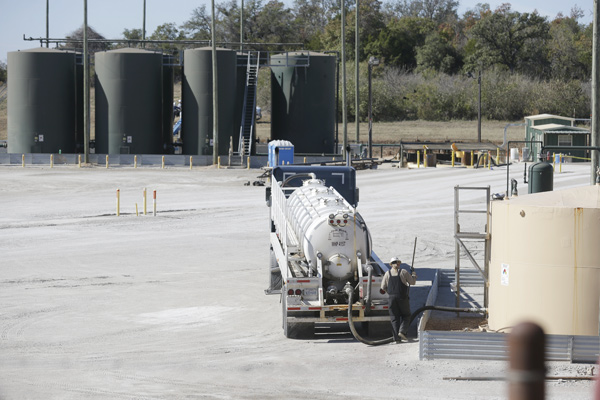 Photo
In this Nov. 19 photo, a fracking wastewater storage facility sits just outside the city limits of Reno, Texas. The rural community sits surrounded by hydraulic-fracturing drilling operations and is considering passing a municipal ban on fracking within the city limits.
Associated Press
RENO, Texas
A Texas hamlet shaken by its first recorded earthquake last year and hundreds since then is among communities now taking steps to challenge the oil and gas industry's traditional supremacy over the right to frack.
Reno Mayor Lyndamyrth Stokes said spooked residents started calling last November: "I heard a boom, then crack! The whole house shook. What was that?" one caller asked. The U.S. Geological Survey confirmed that Reno, about 50 miles west of Dallas, had its first earthquake.
Seismologists have looked into whether the tremors are being caused by disposal wells on the outskirts of Reno, where millions of gallons of water produced by hydraulic fracturing are injected every day. Reno took the first step toward what Stokes believes will be an outright ban by passing a law in April limiting disposal-well activity to operators who can prove the injections won't cause earthquakes.
Reno and other cities are taking their lead from Denton, a university town north of Dallas where the state's first ban on fracking within city limits takes effect Tuesday. The Denton ban has become a "proxy for this big war between people who want to stop fracking and people who want to see it happen," said Michael Webber, deputy director of the Energy Institute at the University of Texas at Austin.
It also has become a referendum on Texas cities' rights to halt drilling.
Property rights are a part of Texas' cultural fabric, but the desire to develop hydrocarbons is strong in a state that leads the nation in oil and gas development. Furthermore, under state law, property rights are separate from mineral rights, making it possible to own one but not the other.
Cities in other states have tried to stop fracking, with varying success. Courts in Pennsylvania and New York have ruled in favor of allowing cities some control over drilling. But in Colorado, courts ruled against one city's attempted ban. In November, Youngstown voters defeated for a fourth time a ban on fracking in the city.
In Texas, the fight pits municipalities against the Texas Railroad Commission, which governs the oil and gas industry, and the equally powerful General Land Office, which uses revenue from mineral rights to fund public education.
The land office, now headed by George P. Bush, a grandson and nephew of two former presidents, owns 13 million acres of land and mineral rights throughout Texas, including in Denton. It has joined an industry group seeking an injunction to stop the fracking ban from taking effect.
More like this from vindy.com