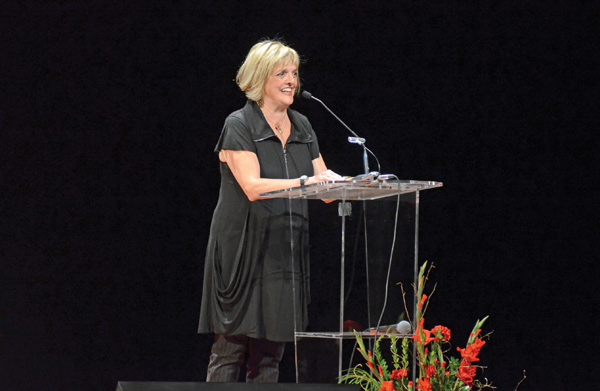 ---

Photo
Tish Traficant, wife of former Congressman James A. Traficant Jr., speaks during the closing of the tribute for him Sunday at the DeYor Performing Arts Center's Edward W. Powers Auditorium in Youngstown. An estimated 2,500 family members, friends, colleagues and others attended the two-hour gathering.
By Sean Barron
YOUNGSTOWN
Sam and Linda Vasquez of Austintown remember a strike at Packard Electric that dragged on for several weeks before suddenly and inexplicably ending within days.
The conduit between the union and the administration — and the person largely responsible for getting a settlement on the fast track — was U.S. Rep. James A. Traficant Jr.
"They called him in, and we were back to work in a few days. I don't know what he said or did, though," recalled Linda, who, along with her husband, worked 30 years for the company. "He always had time for everybody. He was for the people," Sam added.
The couple's sentiments were strongly reflected and echoed during Sunday's ceremony to celebrate the life and accomplishments of Traficant, who died Sept. 27 after being seriously injured in a tractor accident at his daughter's Greenford farm. He was 73.
An estimated 2,500 family members, friends, colleagues and others attended the two-hour gathering at the DeYor Performing Arts Center's Edward W. Powers Auditorium to hear a series of tributes, including several via video, in remembrance and honor of the former congressman.
Traficant, a 1959 Cardinal Mooney High School graduate and four-year Mahoning County sheriff, was elected as the 17th District's congressman in 1984 and served until July 2002.
One of Traficant's crowning accomplishments was having secured $26.8 million in federal funds to build the Covelli Centre, noted Dr. William C. Binning, a former Youngstown State University political science professor who also was the event's master of ceremonies.
Several speakers cited many of Traficant's achievements, which included helping to form the Western Reserve Port Authority, which runs the Youngstown-Warren Regional Airport; obtaining funds to build two federal courthouses in downtown Youngstown; getting $5 million to open Federal Plaza as well as $25 million to construct the state Route 711 connector; and sponsoring legislation to shift the burden of proof from the taxpayer to the Internal Revenue Service in civil tax cases.
Other projects Traficant assisted with were getting several Veterans Affairs clinics built in the Valley; securing funds to expand the Youngstown Air Reserve Station in Vienna; and brokering a deal to establish a private prison on Youngstown's East Side.
Jim Menighan, a longtime friend, fondly recalled having spent time with Traficant at Shady Run Pool and playing touch football with him when they were youngsters.
In high school, Menighan and Traficant played football for Wilson High School and Mooney, respectively. In one game between the two teams, Wilson managed to beat Mooney 30-6, despite his having intercepted a Traficant pass, Menighan continued.
"He had these great big hands and could throw the ball over the moon," Menighan added.
Another football rival was Patrick J. Ungaro, Liberty Township's administrator and a former Youngstown mayor.
Ungaro, who played for Ursuline High School, recalled having worked with Traficant on environmental issues pertaining to several downtown Youngstown buildings. Despite some political differences, the two maintained a solid friendship and worked well together, he said.
Traficant also was a strong advocate for veterans who had served their country and strongly felt they should have top-notch care, noted Ray "Boom Boom" Mancini, a former lightweight boxing champion and fellow Mooney grad.
To that end, the congressman was instrumental in establishing three Veterans Affairs clinics in Youngstown, Mancini explained.
Traficant was well known for availing himself to his constituents when they needed him, but also was genuinely kind and compassionate to those who knew him best, recalled Alexandria Traficant of New Middletown, a cousin.
"I'll always remember him as a loving, caring man who knew how to light up a room. He made me feel like a great person," said Alexandria, a YSU junior and graphic-design major.
In addition, Traficant sent her three of his landscape paintings while he was serving seven years in a federal prison before his release in 2009.
Sunday's ceremony also featured a musical tribute, along with video clips of several of his famous, irreverent one-minute speeches on the House floor. In many of them, he railed against Congress, the IRS and the push for more gun-control laws.
More like this from vindy.com