Mr., Mrs. Kohl celebrate 60th at Mass, dinner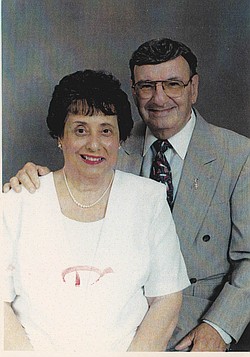 Photo
AUSTINTOWN
Rose and Ed Kohl of Austintown celebrated their 60th wedding anniversary with a Mass at St. Mary Byzantine Church in Youngstown and a dinner at Davidson's Restaurant in Cornersburg with family and friends on Aug. 24.
Their children hosted the event .
The Rev. Richard Lambert officiated at the Mass.
Their children are Ronald Kohl of Mineral Ridge; Eddie Jr. and Pam Kohl of Austintown; Gary and Mary Kohl of Mentor, Ohio; and Karen Markovich of Canfield.
The family includes eight granddaughters, one great-grandson and one great-granddaughter.
The former Rose Marie Grace married Mr. Kohl Aug. 28, 1954, at St. Nicholas Byzantine Church in Youngstown.
The couple are members of St. Mary Byzantine Church and its Golden Pillar Club and American Legion Post 301.
Mrs. Kohl retired after working as a beautician. She is a member of Kent State University Mother's Club and Kleber Gals Card Club.
Mr. Kohl retired in 1974 from McKenzie Muffler, where he was a machinist, and he retired in 1989 from the Ohio Department of Transportation, where he was a supply clerk. He also is a sign painter and is a U.S. Army veteran who served in the Korean War from 1951 to 1953.
More like this from vindy.com