Marla Davis, Will Klatt will exchange vows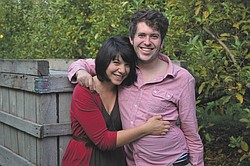 Photo
Marla Davis and Will Klatt
YOUNGSTOWN
Linda and Murray Davis of Youngstown are announcing the engagement of their daughter, Marla Davis, and Will Klatt, both of Columbus.
Maryanna and Bill Klatt of Columbus are the parents of the future groom.
The couple plan to exchange vows at 5:30 p.m. Oct. 11 at Fellows Riverside Gardens in Mill Creek Park. The reception will follow at the Davis Center.
The bride-elect graduated from Ohio State University with a degree in Hebrew.
Her fiancé is studying for a master's degree in public administration at Ohio University.