BHS band takes up Ice Bucket Challenge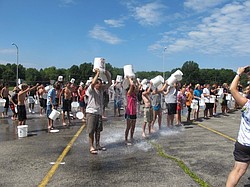 Photo
Neighbors | Tim Cleveland.The Boardman High School band and the band's director Tom Ruggieri (foreground) took the Ice Bucket Challenge.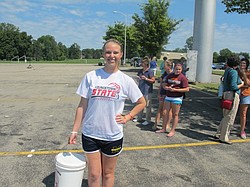 Photo
Neighbors | Tim Cleveland.A soaked but pleased Boardman High School junior Taylor Harden posed after taking the Ice Bucket Challenge. Taylor challenged band director Tom Ruggieri and the Boardman High School band to take the challenge.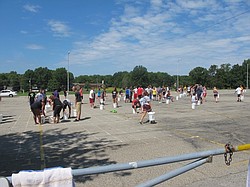 Photo
Neighbors | Tim Cleveland.Members of the Boardman High School band began to line up to take the Ice Bucket Challenge to raise money for ALS research.
By TIM CLEVELAND
The Ice Bucket Challenge, which benefits ALS research and has swept the nation, came to Boardman High School on Aug. 18 with the vast majority of Boardman High School's 165-member marching band and the band's director, Tom Ruggieri, taking up the challenge to raise money for the ALS Foundation.
"One of our students, Taylor Harden, emailed me and said 'Guess what Mr. Ruggieri? I'm going to nominate you and the directors and the band, and we're going to do this. I'm telling you about it ahead of time because I figured you need more than 24 hours notice,'" Ruggieri said. "I guess that's how it works, is you're supposed to complete it within 24 hours.
"We knew we couldn't do that, but we had rehearsal today, so it's the perfect time."
The rules of the challenge are that within 24 hours of being challenged, participants are to video record themselves in continuous footage.
They must first record themselves accepting the challenge by filling a bucket with ice and water. The bucket is then lifted up and the contents dumped on their head.
The participant can then challenge someone else.
Ruggieri said the money was earmarked to be donated to former Boardman High School teacher Christine Terlesky, who is afflicted with ALS.
"We thought a large group of people would make a bigger statement than just maybe one or two, even five," said Harden, a junior. "To have 160 donate just $10 would be really great for the ALS Foundation. We did it for our teacher, Mrs. Terlesky."
Boardman band members who wished to participate gave a suggested donation of $10 to participate. Ruggieri said he hoped to have $1,600 raised, adding that some members gave more.
"I told the kids we want your participation, so if the $10 is a problem, we'll take whatever we can get," he said. "I was pleasantly surprised this morning to see kids throwing 20s in the envelope and not asking for change. Everybody recognizes a good cause."
Harden said she was pleased to spearhead an event for such a good cause.
"It feels good. It's for a really good cause," she said. "I feel like we'll get more done now."
In keeping with the rules of the Ice Bucket Challenge, the Boardman band challenged their counterparts from the Howland, Canfield, Poland and Austintown Fitch high school bands.