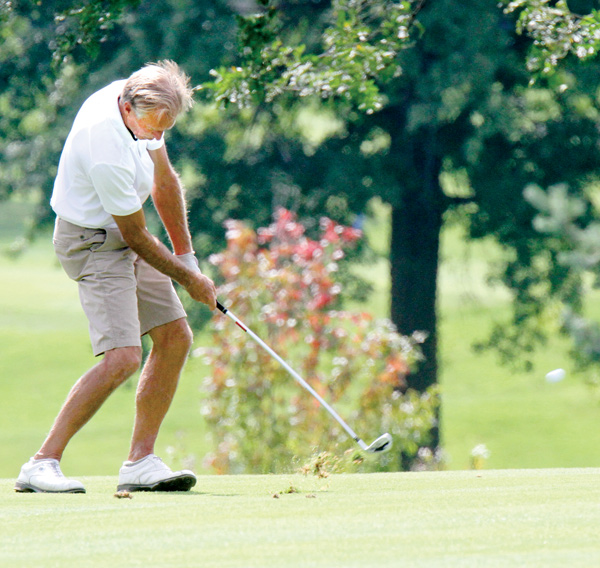 ---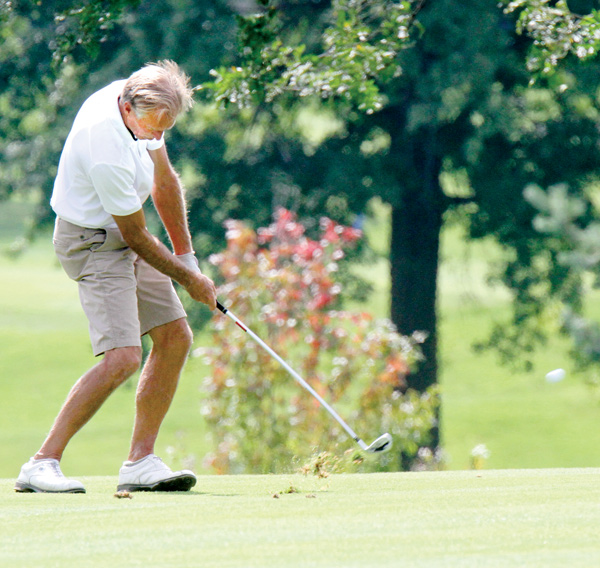 Photo
Youngstown's Dick Marlowe aims for the green during Monday's USGA Senior Amateur Qualifier at Tippecanoe Country Club in Canfield. Marlowe won to qualify for next's month's U.S. Senior Amateur tournament in California.
By Greg Gulas
CANFIELD
Youngstown's Dick Marlowe is no stranger to the U.S. Senior Amateur Championship, having previously qualified in 2008, 2011 and 2012.
After shooting a one-under par-71 to capture Monday's qualifying event at Tippecanoe Country Club, he called his fourth opportunity one of the most gratifying and special since it happened on his home course.
"It's always special when you qualify, no matter where you do it, so when it happens right at home, then it becomes even more special," Marlowe said. "This is what I have worked for the entire year, so I feel excited, relieved, gratified and rewarded all at once.
"There's 10 times more pressure on you when you play at home, simply because of the expectations," Marlowe said. "That's why it's so gratifying for me to qualify this year."
Marlowe shot a 37 on the front nine and then followed with a 34 on the back nine to outdistance 39 others in the field.
Also qualifying were Randy Reifers of Columbus and James Harless of Aurora. Each shot 73.
The two alternates will be Jim Durr of Silver Lake and Tom Baugh of Akron, who carded rounds of 74.
This year's championship will be held Sept. 13-18 at Big Canyon Country Club in Newport Beach, Calif.
Last year's three top qualifiers — Rick Areddy, Jr. of Aurora (75), Steven Poseler of Gibsonburg (79) and Albert Baumann of Fremont(83) — failed to qualify.
Marlowe started out with an eagle on 10 and then added two more birdies to complete his round. His 34 on the back nine tied Niles' Jack Pico for the day's best nine-hole mark.
"I had some chances on the front nine and missed a few putts, but when you start the back nine with an eagle that will always help your confidence," Marlowe said. "My goal on the back was to shoot three or four each hole and just finish strong," Marlowe said. "Youngstown is all about winning national championships, even going back to my touchfootball days.
"I've never played golf in California so the chance to win a national title there is truly an amazing feeling."
Marlowe's best U.S. Senior Amateur Championship finish came in 2011 when he advanced to the round of 16 during play at Kinloch Golf Course in Manakin-Sabot, Va.
Pico registered two birdies and seven pars on his back nine.
"Dick is one the area's great athletes, is an exceptional golfer and will do well next month at the championship," Pico said. "When you shoot 41 on the front nine and miss four, four-foot putts then you know it's going to be a tough day."
Reifers shot 36-37 to qualify for his sixth Senior Amateur Championship while Harless shot 38-35 and is hoping to improve on his 2010 finish when he placed 96th at Lake Nona, Fla.
"I've played Tippecanoe a half dozen times or so," Harless said. "On this course, putting is more important than any other part of your game.
"I had five birdies, including three on the back nine so that really helped me overall."
Reifers qualified in 2003, 2005-07 and 2010. He said he was pleased with his play but was more excited yesterday when his son, Kyle, became the last player to earn his tour card on the Web.com Tour.
"I cannot tell you how emotional I was when Kyle earned his card yesterday as it was just a great feeling for the entire family," Reifers said.
"I felt as though I played well, made a few mistakes but was able to recover and that was the key," Reifers said.
Durr, who missed the cut by two strokes the last two years, called the course one of his favorites.
"This is the perfect course for this type of event," Durr said. "It's very tough, very challenging yet very fair.
Baugh played Tippecanoe for the first time last week during his practice round.
"We had perfect conditions today but you had to work in order to understand the greens," Baugh said. "There's a lot of undulation to them and were visually very difficult; fair, but difficult."