School for gifted students to open Sept. 2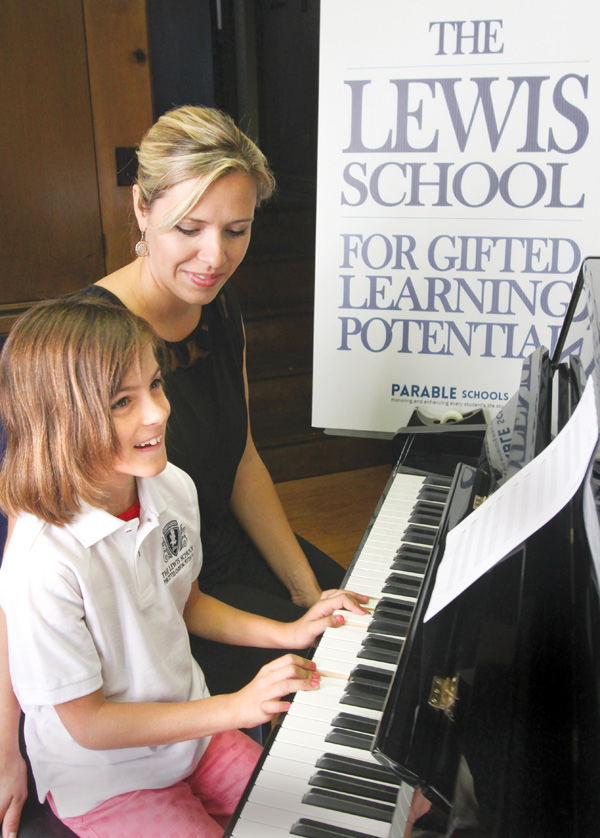 ---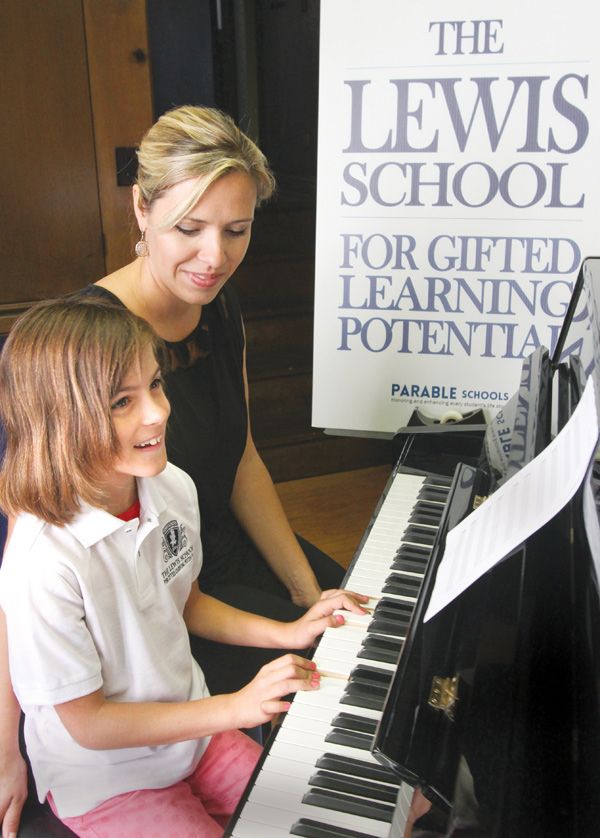 Photo
Sara Reichard, director of the Lewis School for Gifted Learning Potential, sits at the piano with her daughter, Maria Reichard, 9, in the school inside Trinity United Methodist Church in downtown Youngstown. The school opens next Tuesday.
By Denise Dick
YOUNGSTOWN
Twenty-four gifted Mahoning Valley students will start the year in a new school in the city's downtown, developed to focus on their specific needs.
The Lewis School for Gifted Learning Potential opens for the first day of school next Tuesday with 15 students in fifth and sixth grades and nine students in third and fourth grades.
The school was started by Youngstown Christian School and is in Trinity United Methodist Church on Front Street. It is named for children's author C.S. Lewis.
"We have just under half of our students from Youngstown Christian and over half from the surrounding areas," said Sara Reichard, the school's director, who is a teacher of gifted education.
The students from the surrounding area come from public and private schools in Canfield, Boardman, Liberty and Poland.
A ribbon-cutting ceremony is set for Thursday at the school.
The curriculum includes core classes: mathematics, language and literature, social science and natural science. But it adds Latin, French, Chinese, visual arts, engineering invention, computer science, strategic problem solving and music and performing arts as well as Foundations for Christian Thought.
Both grade levels study Latin the first semester and French the second semester and fifth- and sixth-graders get an additional day per week of Chinese.
"We're going for exposure," Reichard said.
Young minds are ripe to absorb new languages, and that type of learning also gets them ready to learn other new concepts. Computer science works the same way, she said.
The school will continue to accept students after the start of the school year on a case by case basis. Tuition is $5,500 per year, and assistance may be available. Educational Choice vouchers are accepted if a student qualifies through the admissions process.
Each student has a written education plan, developed with parental input, determining his or her strengths and weaknesses, preferred learning styles and other information.
In talking to parents who enrolled their children in the new school, Reichard heard from some who were interested in their children having more art and music instruction than what was offered in the schools they're coming from.
Others liked the location. "They love that we're connected to downtown Youngstown, that we're close to Oh Wow!, close to DeYor, YBI [Youngstown Business Incubator] and America Makes," Reichard said. "We're right where everything is happening in downtown."
The school chose the downtown location strategically for its proximity to those attractions and to Youngstown State University. The church also provides distinctive character to the classrooms.
Several partners worked with Youngstown Christian in planning the new school including Oh Wow! The Roger and Gloria Jones Children's Center for Science and Technology; Youngstown State University's College of Science, Technology, Engineering and Mathematics; YSU's Dana School of Music, the C.S. Lewis Institute of Northeast Ohio; YSU's Beeghly College of Education; and the church.
"It feels like we're in a big city going to a unique school," she said.