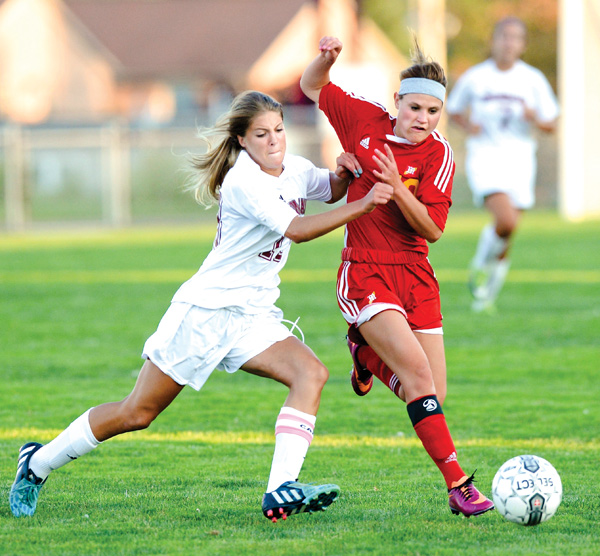 ---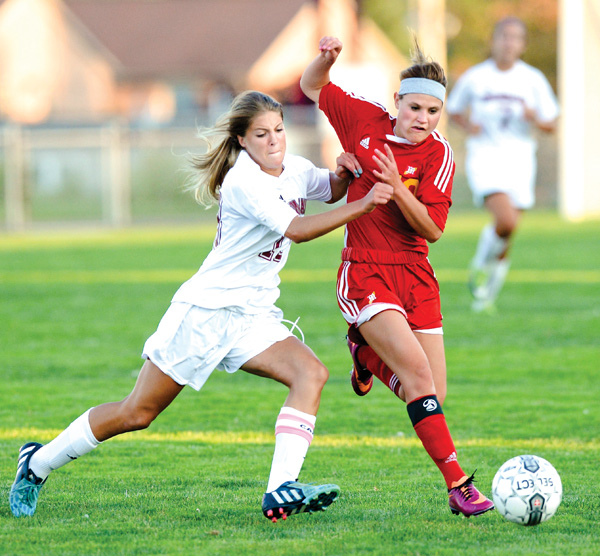 Photo
Boardman's Alison Green makes contact with Cardinal Mooney's Brooke Overly during Monday's game in Boardman. The Spartans won, 7-6.
By Ryan Buck
BOARDMAN
Dare to look the other way (without even imagining leaving the bleachers) and there's no telling what one would have missed on Monday night at Spartan Stadium.
The Boardman High School girls soccer team erased a 4-0 first-half deficit before storming ahead to beat Cardinal Mooney, 7-6, in a clash not even a 30-year coach had seen before.
"I've never ... this is the first time I'd ever seen a game like that," Boardman coach Fawzi Mujahed said, struggling with a lost voice and a face drenched in sweat. "It's very hard to come back from 4-0 down."
Spartans senior forward Alison Green led the charge scoring a career and lifetime-high five goals.
"It's a great thing to be a part of," said Green, who put the winning goal home at the 5:03 mark of the second half. "We tried to keep up the intensity throughout the game and keep up the pressure."
Green notched two goals in the latter stages of the first half that swung the momentum of a game dominated early by Mooney and their own standout in Juliana Vazquez, who scored four goals of her own (two on penalty kicks).
Green tied the game at five with her fourth goal of the game — a point-blank, goal-line finish — on an incredible 30-yard off balance cross from freshman Cassie Stitt with 28:30 lremaining.
With 8:56 remaining, junior Lexi Caraballo lofted a perfectly-placed 30-yard right-footed strike to the far post beyond the Mooney defense to give Boardman a 6-5 lead.
Then it was Vazquez's turn. The senior All-Ohioan bound for the University of Pittsburgh already had a hat trick.
When the Spartans failed to clear a dangerous free kick into their penalty box back into the unexpecting arm of one of their own defenders, Vazquez buried the resulting penalty kick.
Across the quickly-fading paint lining the Spartans temporary home field, Vazquez slalomed her way through the Boardman defense for much of the match before a deft pass or a well-crafted shot usually tested her opponents.
"I don't think I've ever been a part of a game like this and to this caliber, to where it was just back-and-forth, back-and-forth and who could score more goals," Vazquez said. "It's a credit to both teams' offenses because we just kept going at it.
"It's tough to defend a team that fast and that strong."
With 5:03 left in the match, the left-footed Green put the Spartans (2-1) ahead for good.
A quick-turn to her "weak" right foot beat her defender and a well-placed shot slid inside the post for a 7-6 Boardman lead.
Vazquez drilled the Boardman crossbar with 2:50 left before the Spartans hung on for the grand victory.
Lexy Herman and Elizabeth Philibin each scored first half Mooney (0-3) goals.