Steep increases leave entities searching for rock salt suppliers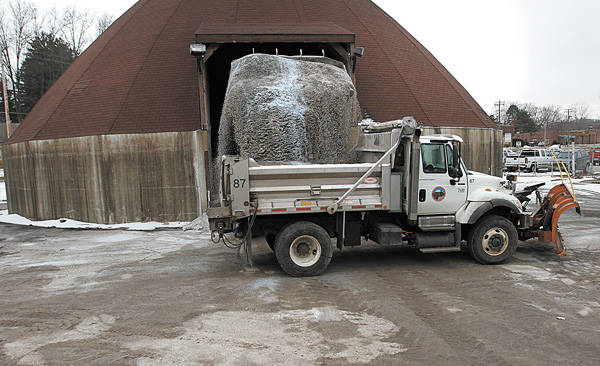 ---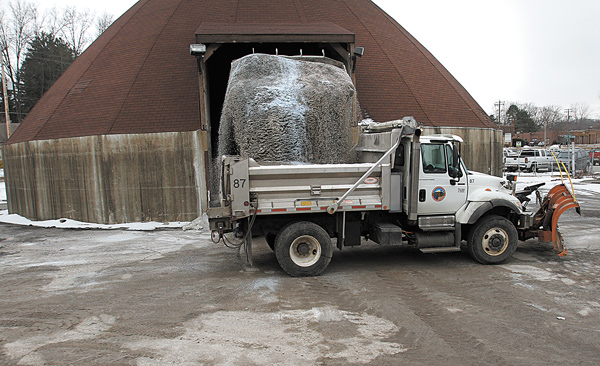 Photo
A Mahoning County Engineer's office truck is loaded with salt before a February snowstorm. Local communities are working with the Ohio Department of Transportation and Morton Salt to lower prices for the coming winter.
By ROBERT CONNELLY
YOUNGSTOWN
Local governments facing dramatic salt-price increases are trying to figure out how to get the ice-melting material for the upcoming winter at a lower cost.
For example, Canfield Township and city and Austintown Township all paid about $27 per ton of salt a year ago.
The new rates for Mahoning County, Boardman and Canfield city are $146.18 per ton; Austintown Township, $148.18; and Canfield Township at $146.13.
Austintown Township Administrator Mike Dockry, Mahoning County Engineer Patrick T. Ginnetti, and Canfield Township Administrator Keith Rogers all said the Ohio Department of Transportation recently let participants in the state's cooperative purchasing program know the price per ton on orders that they previously had reserved.
ODOT asked if the communities would still participate due to the price, and wanted an answer by Aug. 22. The purchasing program allows participants to take a minimum of 80 percent of what they had reserved and a maximum of 120 percent of that same number.
All the local communities mentioned above rejected prices by Morton Salt Inc. through ODOT.
"It's kind of hard to come up with a plan B in two days. ... We can't spend that kind of money on rock salt," Ginnetti said.
Northern problem
ODOT spokesman Steve Faulkner said the state continues to work with 15 counties that are facing prices per ton above $100. He said those are primarily in the most-northwestern parts of the state, from the Indiana state line to Toledo, and most-northeastern, from Ashtabula to Jefferson counties.
"ODOT is not the state's salt supplier, but we ask if they want to join us for the purchase power of that lower price," Faulker stressed. "We have a little bit of time to hold off on letting the salt companies know the price we are going to accept or reject. ... We're going to continue the conversation with these communities to get them the salt they believe they need and the salt they can afford."
In an email, Denise Lauer, Morton Salt director of communications, said: "The price of road salt is dependent upon a variety of factors, including the supply and demand for salt, the production costs for salt, costs to source the salt from points that may be outside normal channels, and the freight cost to deliver salt. The harsh weather this past winter season depleted supplies and created significant costs in production, sourcing, transportation and distribution, which is affecting prices this year."
Faulkner said of Ohio's 88 counties, 63 agreed to a price per ton ranging from $51 to $87, 15 counties have prices above $100 per ton, and 10 counties made no bids. Mahoning County received only one quote from Morton Salt for the winter purchase cycle, which is ongoing. Morton Salt has a salt mine under Lake Erie, and Cargill Inc. has a depot near Cleveland.
PROJECT IMPACTS
Ginnetti said if the county sticks with Morton's current price of $146.18 per ton, "This department would be able to do nothing next year — no paving, no patches. It would eat up budgets and accounts that aren't associated with salting."
Rogers echoed Ginnetti. "We were planning on ordering 2,200 tons so if we paid the $146.13, it comes to $321,486 if we would stay with the state program," Rogers said. "We wouldn't be able to do any projects for 2015 or a paving program next year."
Austintown trustees tabled a vote Monday to purchase 2,400 tons at a rate of $148.18. That comes to $355,632. Dockry told township officials about his discussion with ODOT.
"They wanted to know if [the township] wanted to change [our] bid based on the prices," Dockry said. "My response to him was, 'I'm not real sure what you're looking for outside of whether or not we're going to continue with 3,000 tons.' I said, 'Yeah, I can say the price is ridiculous, but I'm not sure we have any options as far as getting salt.'"
He continued, "I don't know how anybody's going to get it. I don't know where they can get salt where they can bring it in from Texas or Mexico, I'm hearing, at a price that's cheaper."
TOUGH WINTER
Cargill, a Morton competitor, did not want to comment specifically on prices. "There was an unprecedented winter across the snow belt last winter, so there were huge amounts of road salt [used]," spokesman Mark Klein said. "The demand is having to rebuild that lack of carry-over and expectations for needing a large amount of road salt this year."
Austintown Trustee Jim Davis spoke with officials from other communities during an Ohio Township Association dinner hosted last week by Canfield Township. He said some townships are considering lowering speed limits and only salting hills; other communities are looking at mixture options to combine with rock salt, such as limestone shavings.
Austintown Trustee Lisa Oles asked Dockry to send a letter to the Ohio Attorney General's office "to specifically ask them to look at this [price] compared to what we paid last year."
Austintown Trustee Ken Carano said, "The problem is, if we don't salt the roads, we become liable — and the liability factor is way worse than the salt factor."
Canfield city Manager Joe Warino said the city rejected the offer through the state purchasing program. If the city were to buy at the state's rate, it would cut the road budget in half, he said.
SOME STOCKPILES
Warino said the city has 700 tons in storage, and Dockry said Austintown has 300 in storage. "I contacted Morton to see if we could buy additional salt to stockpile at our Red Gate Farm or somewhere off site, and they're not willing to sell at" the summer order price of $42 per ton, Warino said.
Warino said Canfield usually uses between 900 and 1,100 tons in a "mild winter."
At Monday's Boardman trustees meeting, road Superintendent Larry Wilson said the township has 4,500 tons in storage for this winter, some of that bought through the summer salt purchase program at a rate of $42, sufficient for a normal winter. "If it's not a winter like last winter, we have enough to get through with a 50-50 mix of slag [and salt]," Trustee Brad Calhoun said.
"Due to the exceptionally severe winter, we used 7,500 tons of salt in 2013-14," Wilson said. "Typical usage is closer to 5,000 tons."
Ginnetti said, "We have salt in our dome that we ordered for the summer fill up. ... It's basically we have to have more in before the snow flies."
Warino said ODOT is "looking at rejecting those bids as well and trying to regroup and figure out what we can do. Salt is going to be a serious issue this year. ...That's why I'm hopeful ODOT has a backup plan. We've looked at some other options — we haven't heard back from any."
Faulkner said the talks among the communities in the 15 counties facing more than $100 a ton continue. "We plan for the worst, and hope for the best ... and we want to avoid that worst-case scenario as much as possible."
Contributor: Jordyn Grzelewski, staff writer