Gurska, Rogner shine on Greatest stage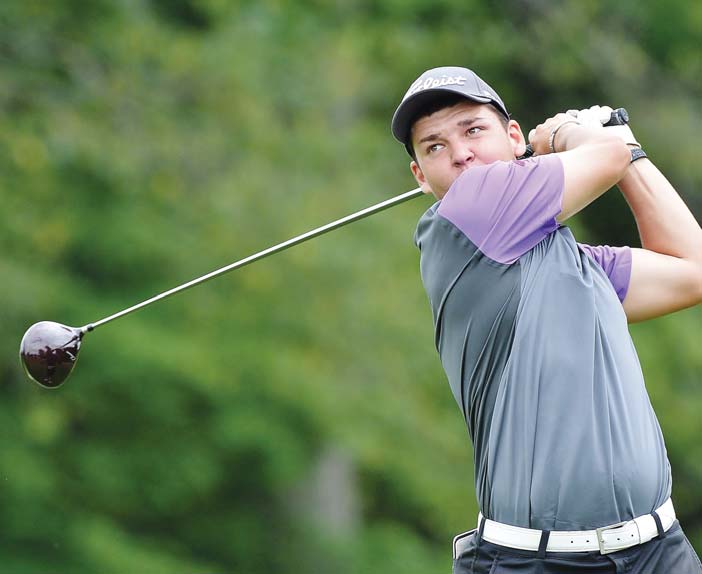 ---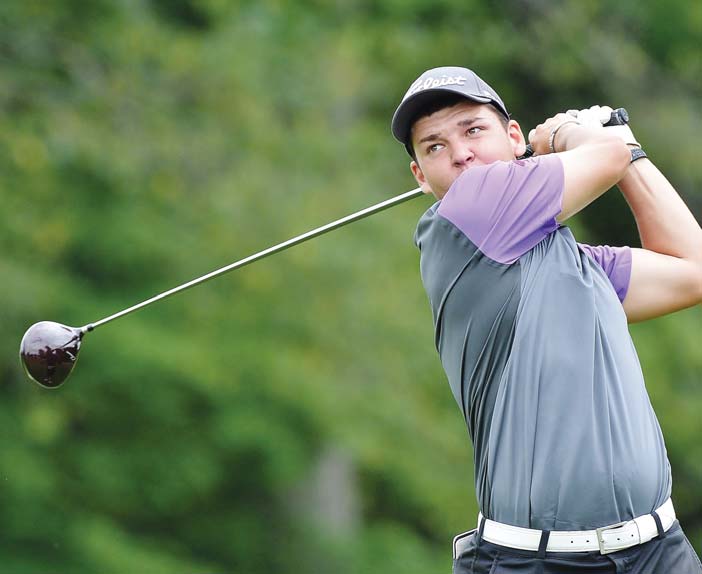 Photo
Matt Gurska watches his tee shot during the fifth annual Vindicator Greatest Golfer tournament Sunday at The Lake Club in Poland. The 21-year-old Robert Morris University senior won the Pete Mollica division with a 5-under par for the tournament.
POLAND
Before heading back to Robert Morris University in Pittsburgh for his senior year, Matt Gurska made a stop at The Lake Club in Poland for the fifth annual Vindicator Greatest Golfer of the Valley sponsored by Farmers National Bank.
Less than 24 hours before the start of his college golf season, Gurska schooled the field in the Pete Mollica Open division with a final round of 2-under par 68 to put a stamp on his first Greatest Golfer championship.
"I've been hitting a lot of greens and just making putts that you have to," said Gurska, a native of Hermitage, Pa. "That's really all I can tell you."
With a score of 5-under for the tournament, Gurska collected another piece of hardware to his rapidly growing trophy case. The 21-year-old won the club championship at Avalon Lakes Golf and Country Club last week, but not without a learning experience.
"Last week I almost blew a big lead so I kind of just wanted to put my foot on the pedal," Gurska said.
Josh Zarlenga will have to settle for another runner-up finish, shooting a 1-over for the tournament. Tim Morrow took third with 4-over.
Returning in style
Katie Rogner has had an itch to get back into competitive golf and her performance over the weekend just confirmed something the former Youngstown State player already knew — she's really good.
Rogner opened with a round of 74 on Friday and closed with a pair of 73s over the weekend to win the women's open division going away.
"It was all about keeping my focus and getting back into the swing of things," Rogner said. "It was hard to want to come out here and birdie like I used to in college, but keeping my focus on fairways and greens was really what helped me."
Getting back into competitive golf is something that's always remained in the back of her head. Perhaps the win will put it more in the forefront.
"It makes me miss it so much," Rogner said. "Having all my coaches out here ... old teammates ... it really made me miss it a lot."
Toni Notaro took second at 15-over.
Low scores draw attention
Griffin Todd became the talk of the tournament, but not in the way he would have preferred.
Playing in the men's 5-9 handicap division, Todd posted very low rounds of 74 and 71 the first two days and closed with a 78 on Sunday. He won the division by nine strokes over Bryce Miner and had many rumbling about the legitimacy of his handicap in the process.
After his victory on Sunday, he shed some light on the situation.
"I'm 23 years old and didn't start playing golf until two-and-a-half years ago," Todd said. "I was playing toward the 10-14 [handicap] all summer and then the last week before the deadline things kind of clicked.
"Between friends and family they were all like, do the 10-14 division and see if you can pull out a W for once. It obviously was a borderline call and if I knew I was playing this well I probably would have moved down to the 5-9 division, but I was just very blessed to play as well as I did."
Todd finished third in the 10-14 handicap division the past two years and has been playing "night and day for the past three weeks" to improve his game.
"Having a nice comfortable lead going into [Sunday] made it a little easier," he said.
The Great Twitch
Clifford Tims said it was all luck. Those who know him would tell you otherwise.
An assistant on the grounds crew at Trumbull Country Club, Tims was one of only two golfers to play the tournament under par. His 2-over 72 on Sunday was enough to keep him atop the men's senior division, ahead of Jim Sladovich.
Tims has a name for his putting game, inspired by one of Robert Penn Warren's novels.
"He used the word the great twitch, if your familiar with 'All the King's Men,'" said Tims. "The great twitch is my putting stroke, or at least it was today.
"Fortunately I was able to hone in my iron shots so I had a lot of birdie putts."
Ed Antonelli won the super senior division for the fourth time in five years with a total score of 231.
Sudden Death Golf
Ron Merrell double bogeyed the last hole, all but sealing his fate in the men's 15-plus handicap division. Or so he thought.
Merrell came from five shots back to start the day to force a sudden-death playoff for the title. He then defeated Jay Moore on the first hole.
"This is huge," Merrell said. "I've never played in any of this and I actually played well. I played well everywhere, which is unusual because I only played Mill Creek North one time before the first round and I've never played Trumbull or [The Lake Club]."
Merrell said he was ecstatic just to find out he was going to be able to play Trumbull and The Lake Club. Now he'll be coming back as a former champion.
Former women's open division winner Lori Bowden defeated Felicia Drevna in playoff for the women's 9-plus handicap division.
This year's win had more meaning to it for Bowden, who dedicated the victory to her mother, who died this year.
"This is for her," Bowden said. "That's why I dropped down a division this year — just not up to snuff this year with my game."
The third and final division that required a playoff was the men's 5-9 handicap.
Ryan Griffith sank a 10-foot putt on the first hole and gave an emphatic fist pump to cap a thrilling Sunday.
"It was a great feeling making a putt in a pressure situation like that," Griffith said. "It was exciting."