Rod Stewart wears talent, age well in rocking Covelli concert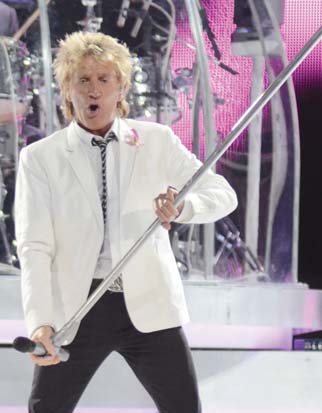 ---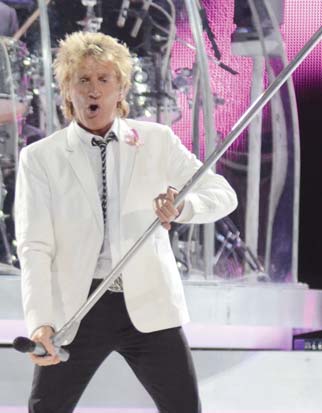 Photo
Rod Stewart performs his opening number, "Infatuation" at the Covelli Centre on Sunday night. The British rocker, 69, attracted a packed house of fans.
YOUNGSTOWN
Longtime rock legend Rod Stewart packed Covelli Centre Sunday evening and his fans packed downtown restaurants and bars fueling up for "Rod the Mod's" sold-out solo concert.
"He's still got it," said Mary Durso of Transfer, Pa., who with her friend, Brenda Shine of Greenville, Pa., were among the crowd that jammed into the Covelli Centre for the 8 p.m. event.
"I love his energy, looks and the storytelling of his music. As long as he keeps doing it, I'll keep going to his concerts," said Durso who has attended several Stewart performances.
The 69-year-old Stewart attracted a generally older crowd, but Rose Matasic of Youngstown, accompanied by her daughter and son-in-law, Carla and Jim Catheline of Canfield, may have been the most senior person in attendance.
At 90, back in the day Matasic, who described herself as a "very big" Rod Stewart fan, listened to Frank Sinatra and the Tommy Dorsey Orchestra and other big-name entertainers at the Idora Park Ballroom.
"Rod Stewart was part of my younger days in high school and Vietnam," said Sam Zapka of Campbell, who was basking in the early evening sunshine outside the Covelli Centre before the concert with his friend, Stephanie Jones of Campbell, and sister, Pam Raseta of Struthers.
Raseta said she got turned on to Stewart listening to her brother's records while he was in the Air Force in Vietnam. Jones said she named her cat "Maggie May" after one of Stewart's biggest hits.
"Rod ages pretty well," Zapka said.
Stewart is a "soul man at heart," said Danny Thomas Jr. of Struthers, who attended the concert with his wife, Michele.
A big Rod Stewart fan, Thomas said his first concert was in 1972 in the Akron Rubber Bowl when the Badfinger and Cactus bands opened for Stewart Stewart and the Faces.
"I like his voice and his style. You can tell he grew up listening to the oldies," Thomas said.
Echoing a fairly common theme among people interviewed: "I love having a dinner and a couple of drinks and coming downtown to a concert that's only 10 minutes away. It's great for the whole Mahoning Valley," he said.
"We're not huge Rod Stewart fans, but we support any big-name performer that is in our backyard and Youngstown," said Jim and Laura Yankush of North Lima, both Youngstown State University graduates.
"We need to support Youngstown. I love seeing all these business opening," Laura said.
"Rod Stewart is a true entertainer like Elton John and Billy Joel," said Dennis Imhof of Columbiana.
"I would have loved to seen him in 1970. I love his personality and music. I think we'll be rocking tonight," said his wife, Sherry.
"We go to Playhouse Square in Cleveland, but it's nice to have something like this just 20 or 30 minutes away," Imhof said.
Rod Stewart appeals to all ages, said Debbie Dolak of Boardman.
"I love his voice and the way he looks in jeans," she said with a laugh.
Dolak and her friend, Donna Miller of Girard, both named "Maggie May" and "We're Having a Party" which was the second song performed Sunday, as their favorite Stewart tunes.
Other well-known hits of the British singer-song writer include "Tonight's the Night," "Forever Young," "Hot Legs," and "Do Ya Think I'm Sexy?"
Stewart opened Sunday's performance, backed by a dozen-member band, with "Infatuation" and "We're Having a Party.''
Stewart, one of the best-selling music artists of all time, having sold over 100 million records worldwide, as a solo artist was inducted into the United States US Rock and Roll Hall of Fame in 1994 and again in 2012 as a member of Faces. He was inducted into the United Kingdom Music Hall of Fame in 2006.