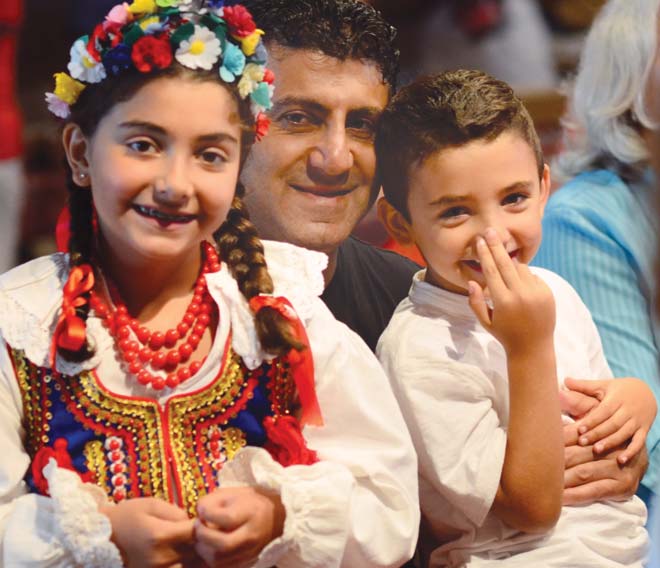 ---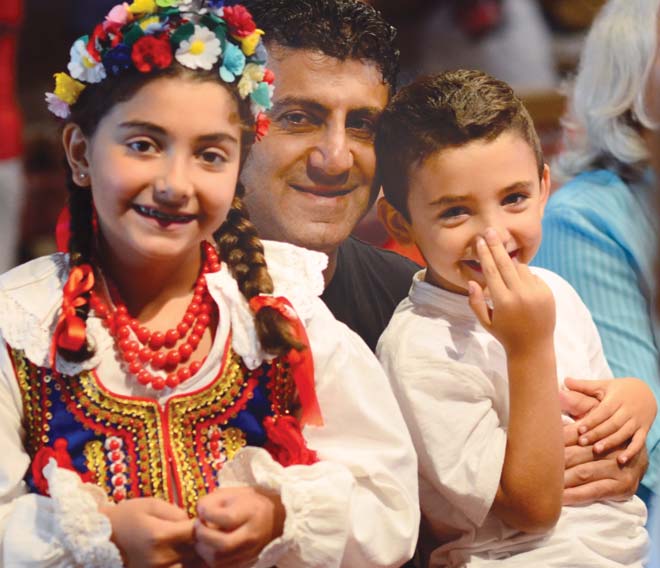 Photo
Isabella Khoury, 8, left, her father, Tony, and her brother Alex, 5, enjoy the Polish Heritage Celebration at the Saxon Club in Austintown on Sunday. "They've danced in the group for years," Tony Khoury said.
Hundreds savor ethnic flavors of Poland at festival
By Sean Barron
AUSTINTOWN
If you wished to sum up the essence of another area summer festival, all you would need is a handful of P-words: pirogi, poker, paczki, potato pancakes, polka music and platters.
Those items were part and parcel of the sixth annual Polish Day festival at the Youngstown Saxon Club, 710 S. Meridian Road.
On Sunday, hundreds of people enjoyed plenty of food, music, cultural workshops, art and dancing that made up the two-day gathering, which got underway Saturday.
The fest, which was the main event for Polish-American Heritage Days, was
to educate people about Polish history, culture and contributions to the United States and the world.
It also was to make the public more aware of many commonalities between Polish and American cultures, noted Lisa Skomra-Lotze, a member of the 79-year-old Polish Arts Club.
"We've forgotten about our Polish history," she said.
Attendees certainly didn't forget about the variety of ethnic foods that included lazanki (Polish haluski), pirogi, stuffed cabbage, kielbasa sandwiches with sauerkraut and, of course, potato pancakes. Also available were $12 Polish platters.
Many people satisfied their sweet tooth by enjoying baked goods such as snoogles (flaky iced pastries with cream-cheese filling), stara baba (croissants heavily filled with butter cream and topped with sugar) and paczki (large doughnuts that came in five flavors).
The event also delivered on the merchandise, thanks to people such as Sandy Copich of Liberty, a member of the Polish Arts Club and Polish Youngstown.
"The festival is able to bring so many people together, it's wonderful. It's a richness for the community," said Copich, who was selling items such as $4 shot glasses, beer mugs for $8 apiece, T-shirts, coffee mugs, ball caps, compact discs and hand-painted glass Christmas ornaments made in Poland.
Early in its history, the arts club awarded $50 annual scholarships. Now the figure is $2,000 each year, she noted.
While some people were receiving polka-dance lessons and listening to bands such as Ethnic Jazz, others were taking part in a series of workshops related to Polish culture and customs. Conducting one such session was Dr. Ewelina Boczkowska, a Youngstown State University music-history professor who discussed Polish nobility and its role in the country's history.
Skomra-Lotze, who also is chairwoman of the Veterans Monument Project, said she's pleased with a relocation effort in which a monument was moved from the former Krakusy Hall on Youngs-town's South Side to Peterson Park in Poland.
The statue is the only one in the world that depicts Revolutionary War Gens. Tadeusz Kosciusko and Casimir Pulaski together, she noted.
Work continues on the walkway surrounding a fountain, and a ramp for those who use a wheelchair should be built this fall for the project's final phase, Skomra-Lotze continued.
"It's been a four-year labor of love," she added.
In addition, Skomra-Lotze was promoting "Notes for a Young Prince," a book by Alexi Lubomirski, who's also a fashion photographer.
Book proceeds go to Concern Worldwide, an international humanitarian organization that works to tackle poverty and suffering in the world's poorest countries while transforming the lives of their people.
Other festival features were Best Pirogi and pirogi-eating contests, a Polish happy-hour sing-along gathering, a basket raffle and a folk-ensemble performance.