Past, present, future of Valley golf shine at GGOV final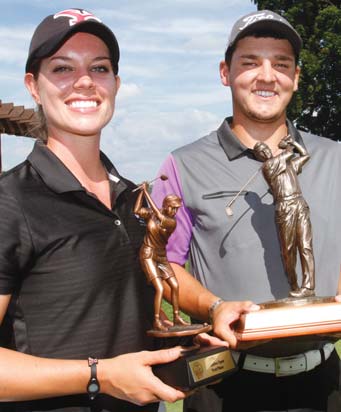 ---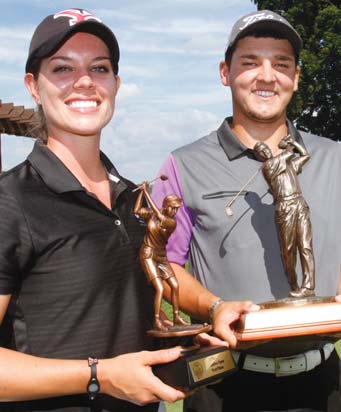 Photo
Katie Rogner displays her trophy as winner in the women's division of the 2014 Greatest Golfer of The Valley tournament Sunday. Matt Gurska, right, won the Pete Mollica Men's Open.
By Kevin Connelly | kconnelly@vindy.com
POLAND
With beautiful Lake Evans providing a picturesque back drop for the fifth annual Vindicator Greatest Golfer of the Valley championship sponsored by Farmers National Bank, the final chapter of a summer's worth of events was written at The Lake Club on Sunday.
Valley golf's past, present, and future were in attendance to close this year's Greatest Golfer season.
From retired PGA professional Jerry McGee and USGA senior amateur golfer Dick Marlowe, to this year's young crop of champions — three winners were 25 years old or younger — Sunday was a great day to be a golf fan in the Valley.
"This is what it's all about," said Ed Antonelli, this year's eldest champion in the super senior division. "Greatest Golfer of the Valley, friends and family are who come here and [The Lake Club owner Ed] Muransky's done a hell of a job with this place. It's absolutely beautiful."
Antonelli, who's won his division in four of the five years, feels a special connection to the Greatest Golfer. He and fellow playing competitor Jim Sladovic were friends with long-time Vindicator sports writer Pete Mollica, for whom the men's open division is named.
Antonelli joked that he can't hit it as far or as good as he used to when he played with Mollica, but at age 77, he hasn't lost his winning touch — or sense of humor.
"This is wonderful," said Antonelli. "This event is a tribute to The Vindicator only because we've never had this for probably 30 years. A three-day event is unheard of and you get a chance to play with different people, you're out of your comfort zone, you're playing different golf courses that you aren't used to — especially if they're private and you can't get on them — so it makes it awful tough."
Greatest is produced as a partnership of The Vindicator, Farmers National Bank, Superior Beverage, Covelli Enterprises and The Lake Club, along with five other sponsors, 10 golf courses and 3,000 golf families.