10,000 walkers, runners carry Panerathon past million-dollar mark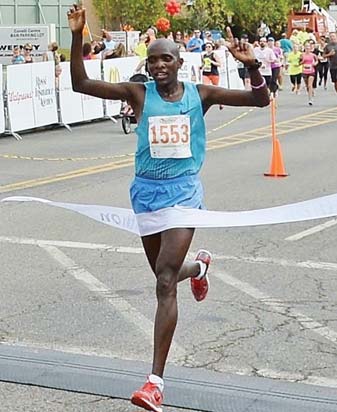 ---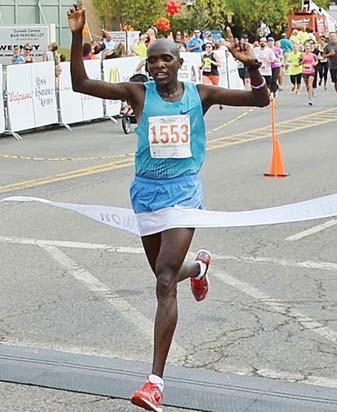 Photo
Abraham Chelolnga breaks the tape as he crosses the finish line to win the Panerathon 10 K race Sunday in Youngstown. Panerathon has now raised $1 million to fi ght breast cancer.
By Bob Jackson
YOUNGSTOWN
Toni Beckinger lost before she even got to the starting line for her first attempt at running the Panerathon.
But her loss was largely what brought her there in the first place.
"As of this past Tuesday, I have lost 100 pounds," said the North Carolina native who now lives in Warren. "This is my very first attempt at something like this. The first of many, I hope."
The Panerathon has been downtown for the past five years and raises money to support the Joanie Abdu Comprehensive Breast Care Center at St. Elizabeth Hospital in Youngstown. Participants can enter either a 2-mile or a 10 Krace and are free to walk or run.
For the third year in a row, there was also a free Kids Run for children age 4-12.
This year's Panerathon was Sunday morning, with the Covelli Centre serving as race-central, where the races began and ended. Thousands of people, sporting bright shirts that covered every color in the rainbown — and then some — turned out to be a part of it.
Allen Ryan, director of corporate affairs for Covelli Enterprises, which sponsors the event, said the numbers have grown by 20 to 30 percent each year. It's become the largest fund-raising event in the Youngstown area.
"I would be comfortable saying that we'll have over 10,000 people taking part this year," said Ryan. "It's really become the signature event for the community."
The race attracted about 8,000 participants in 2013.
Ryan said the fact that so many people support Panerathon, either by entering one of the races or helping out as a volunteer, reflects the benevolent nature of the community.
"People are very generous and caring," he said. "If you have the right cause, they're willing to give of their time and their treasures to support it."
He said that with money raised through this year's event, Panerathon has now raised more than $1 million for the Abdu Center.
For Beckinger, who ran in the 10 K, lacing up her running shoes was part of a lifestyle change she undertook at the beginning of this year, vowing to lose 100 pounds and lead a healthier lifestyle.
"I wanted to do it before I turn 40 because, as you get older, it really gets harder and harder to do," she said.
When her daughter signed up for the race, Beckinger thought she would give it a whirl as well.
"I decided, 'Why not?'" she said. "I'm going to do it."
Marcia Yost of Poland has participated in all five Panerathons because, as a 16-year breast-cancer survivor, the cause is near and dear to her heart. She and her husband, Larry, entered with their friend, Beth Ryhal of Hubbard, who was in her first Panerathon.
"It's just an awesome thing," Marcia, 58, said of the Panerathon. "It's a whole community event."
Ursula Shugart of Boardman and her friend, Shar Fabiilli of Canfield, took to the 10 K course sporting pink tutus with black knee socks and black angel wings.
"We don't run, so we're going to fly," Fabiilli said of why they were wearing wings.
"These wings are going to take us all the way," said Shugart, who said they got into the race to support all breast-cancer survivors.
"One of my best friends was just diagnosed [with breast cancer], and she is a survivor," Shugart said.
Because the event costs are underwritten by Covelli Enterprises, 100 percent of the proceeds go to the JACBCC, which opened three years ago.
The money raised from Panerathon supports Joanie's Promise at the Humility of Mary Health Partners Foundation, which ensures access for all Mahoning Valley women to life-saving screenings, care and services at the center, regardless of their ability to pay.
SDLqCovelli Enterprises and HMHP are very thankful that the people are willing to come out and support this event each year," Ryan said. "It's not a race, it's an event."
"It's been amazing to watch the Panerathon grow over the years and to see the impact it has made in the lives of thousands of women and families in our Valley," said Sam Covelli, owner/operator of Covelli Enterprises.
"We're thrilled to have raised more than $1 million in just five years with the support of our generous participants and sponsors. I couldn't be prouder of this event and the incredible community that has made it possible."