Time is growing nearer to view Toths' garden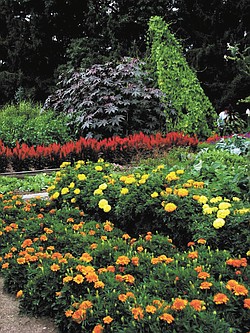 Photo
SPECIAL TO THE VINDICATOR Rodney and Kay Toth's garden is open again this year for a day of public viewing. The hours are 10 a.m. to 6 p.m. Aug. 31 at 5637 W. Liberty St., Hubbard. The couple have several areas they have named, including a Grandchildren's Garden and a Giant Tomato Forest.
Staff repoprt
Rodney and Kay Toth's garden at 5637 W. Liberty St. (Route 304) will be open to the public from 10 a.m. to 6 p.m. Aug. 31. Their home is 2.5 miles east of Belmont Avenue (state Route 193).
Their garden thrives with many specialty plants such as Mexican petunias, sunflowers named Shock o Lot and Waooh, Tequila Sunrise hibiscus, Burpee's Steahouse tomatoes, Cupcake purslane, Sea Urchin sedum, Rattlesnake pole beans and a Mexican quilt.
Several major gardens include The Mexican Dahlia Garden and The Giant Tomato Forest, which has unusual varieties of tomatoes. In addition to peppers, hostas, coleus, a variety of annuals and perennials, there's The Great Gourd Tunnel, a 40-foot-long arbor.
The Grandchildren's Garden consists of eight triangular sections, one for each grandchild. There's also a Super Sky High Sunflower Garden and the Potpourri Pole with Blue Sky Vine and Red Mandevilla.
At 2 p.m. Monica Toth Baker will entertain by singing. John Schinker from the Men's Garden Club of Youngstown will show mums, and Alice Lang will present decorative gourd art.
Ample parking is available, and there is no admission fee. For information or to arrange garden club tours on other days call Rodney Toth at 330-759-1993.
More like this from vindy.com