Noted author to highlight literary society event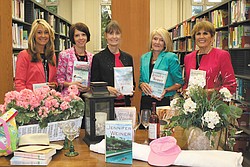 Photo
SPECIAL TO THE VINDICATOR Literary Society members plan this year's fundraising event featuring best-selling author Jennifer Weiner. From left to right are Deborah Liptak, library development director; and committee members Crissi Jenkins, Karla Edwards, Betty Cmil and Julie Costas.
Staff report
POLAND
The appearance of author Jennifer Weiner will highlight the Literary Society of the Public Library of Youngstown and Mahoning County author fundraiser set for Sept. 18 at The Lake Club, 1140 Paulin Road.
Doors will open at 6 p.m., and there will be an author reception and cocktails from 6 to 7 p.m. Dinner will be served at 7, and Weiner will make a presentation at 8.
Tickets for the event are $75. To print out a reservation form visit www.libraryvisit.org/literarysociety. To reserve your spot at the Literary Society event, email dliptak@libaryvisit.org or call 330-740-6086.
Weiner was born in 1970 on an army base in Louisiana. She graduated from Princeton University with a degree in literature and worked as a newspaper reporter in central Pennsylvania, Philadelphia and Kentucky. She published her first novel in 2001 and has been a full-time fiction writer since.
Her books include "Good in Bed"; "In Her Shoes," which was turned into a major motion picture starring Cameron Diaz, Toni Collette and Shirley MacClaine; "Little Earthquakes"; "Goodnight Nobody"; "The Guy Not Taken"; "Certain Girls"; "Best Friends Forever"; "Fly Away Home"; "Then Came You"; and "All Fall Down."
She also was the co-creator and executive producer of the ABC Family show "State of Georgia," which ran during the summer of 2011.
Weiner has been a frequent public speaker who appeared on "The Today Show," "The CBS Early Show," "The Martha Stewart Show," and "The Rachel Ray Show" among others.
Her work has been published in The New York Times, Seventeen, Redbook, Glamour, Good Housekeeping, In Style, Allure and Elle. Time magazine named her as the author of one of its 140 best Twitter feeds, and Forbes put her on its list of 25 working moms to follow on Twitter.