Michael and Marjorie Lukon celebrate 50th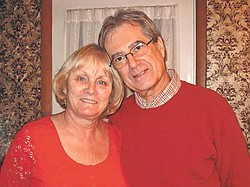 Photo
Mr. and Mrs. Michael Lukon
LAS VEGAS
Michael and Marjorie Lukon of Las Vegas, formerly of Austintown, celebrated their 50th wedding anniversary Aug. 23 with a party at Greenfield Berry Farm in Peninsula, Ohio, hosted by their children.
Their children are Michele (Daniel) Greenfield of Peninsula and Melissa (Auggie) Ruggiero of Fairlawn, Ohio. Their grandchild is Tenzin Ruggiero.
The couple are former members of Immaculate Heart of Mary Church in Austintown.
Mr. Lukon retired in 2000 from General Motors in Lordstown. He is an Air Force veteran.
The former Marjorie Thomas married Mr. Lukon on Aug. 22, 1964, at St. Columba Cathedral in Youngstown.