Garden guild arranges event with 5 floral artists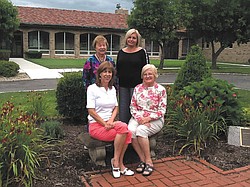 Photo
SPECIAL TO THE VINDICATOR Committee chairwomen for St. Michael Garden Guild's An Evening with Five Fantastic Floral Artists are, sitting, Paula Lavin, left, and Liz Rehlinger; and standing, Janet Murray and Holly Buente.
Staff report
CANFIELD
St. Michael Garden Guild will host An Evening with Five Fantastic Floral Artists on Sept. 16 at St. Michael's Family Life Center, 300 Broad St.
Doors will open at 6:30 p.m., and the evening will begin at 7. The event will feature five local florists each designing a themed arrangement. The arrangements will be raffled at the end of the program.
The cost of the evening is $20 in advance or $25 at the door. This fundraiser is used to maintain the Gallagher Gardens at the church and other gardens on the church grounds.
To obtain a registration form, visit the church website at www.stmichaelcanfield.org. For information call Janet Murray at 330-565-7175 or email jmmurrayoh@yahoo.com.
The participating florists are Casa Dei Fiori, Full circle, Something New Florist, Wild Flower Cove and the Willows by Wehr.