GGOV: Former YSU golfers off to strong starts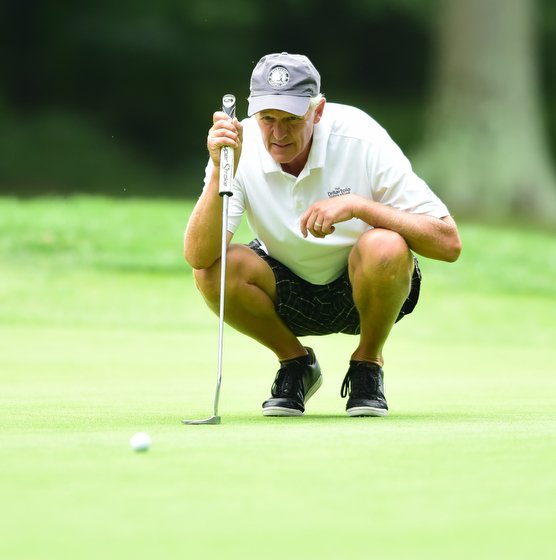 ---
Greatest Golfer of the Valley 2014: Day 1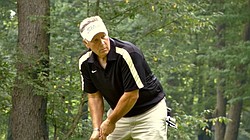 Video
Enjoy some of the sights and sounds of The Greatest Golfer of the Valley competition on Day 1 at the Mill Creek Golf Course.
Greatest Golfer Tournament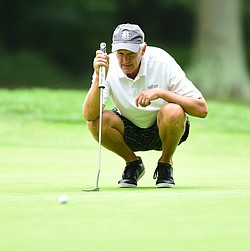 Gallery
YOUNGSTOWN
Just because someone walks away from competitive golf, doesn't mean the competitive golf ever leaves them.
Tim Morrow and Katie Rogner learned that in Friday's first round of the 5th annual Vindicator Greatest Golfer of the Valley tournament sponsored by Farmers National Bank.
Morrow and Rogner, former members of the Youngstown State golf team, posted impressive opening rounds to hold a share of the lead in their divisions after 18 holes.
Morrow is at the top of the Pete Mollica Men's Open division after shooting a 1-under par 70 at Tippecanoe Country Club in Canfield. Rogner is tied for first in the women's open division thanks to a round of 74 at Salem Golf Club.
Both are in good position as second round play continues today.
"Getting through the round today was probably the hardest — I was nervous out there all day," said Morrow, who is in his second year competing in Greatest Golfer.
"I saw the 71s were posted and I wanted to get in around the number, so I'm glad I got that in there and got that monkey off my back."
After his time at YSU, Morrow, 27, became an assistant pro at Youngstown Country Club, which happens to be where he'll play his second round today. He won their club championship two years ago, so familiarity won't be lacking for Morrow.
"Obviously my goal is to win, but that's my biggest problem — thinking about the end result even when I'm on the first hole today," he said. "You can't think about winning when you're still on the first tee box.
"It's said a lot, but shot by shot, hole by hole."
Morrow got a taste of championship golf on Sunday last year, playing in the final group. He didn't play the way he knew he was capable of, giving him more motivation for this year.
"I've played a lot of competitive golf and there was nothing really like that final group, having 50 or so people watching you," said Morrow, whose day job is now in sales.
"It was such a good time that I decided, let's do it again."
Michael Porter, Scott Porter and Josh Zarlenga are on his heels with opening rounds of 71 at Tippecanoe.
Tony Sandy (72) and Eddie Maughan Jr. (73) lead the men's 5-9 handicap division. Bryce Miner (73) and Griffin Todd (74) sit atop the men's 10-14 handicap division.
The young guns weren't the only ones to shoot in the red. Ronald Daum shot a 3-under par 67 and Clifford Tims posted a 69 in the men's senior (age 60) division at Mill Creek Golf Course to grab the attention of everyone checking the leaderboard.
Don't call it a comeback for Rogner, another former Penguin.
After winning the inaugural Greatest Golfer event in 2010, Rogner moved to Toledo for a job and her golf game suddenly took a backseat.
In her first year back in the field on Friday, it was like she never left.
Rogner shot a 74 at Salem Golf Club and is in a tie for the lead of the women's open division with Toni Notaro.
"The conditions were great and the golf course was in really good shape," Rogner said. "As for my round, it was pretty good, too. I had a few birdies, eagled a par five — the greens were rolling pretty nice."
"It was pretty fast, so putting was definitely tough."
Rogner said she only gets to play about twice a week in a ladies league in Toledo. The competitive events are almost non-existent anymore, but that didn't phase her on Friday.
"Being able to compete with a group of ladies that I've played with in the past, I couldn't have asked for a better return," she said.