---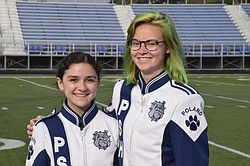 Photo
REBECCA DANGERFIELD (left) and ABIGAIL SPRATT.
Names: Rebecca Dangerfield/Abigain Spratt
Instruments: Bassoon, Alto Saxophone, Baritone Saxophone/Tuba, Bass Trombone
Q. When did you start playing your instrument? Why did you pick the instrument(s) you are playing?
A. Dangerfield: I began playing the alto sax. in fifth-grade simply because I fell in love with it from the first squeak. In the eighth-grade, I was switched to the bassoon because my band directors believed I was up for the challenge.
Spratt: I started playing the tuba in the eighth-grade. I then started to play the bass trombone in the jazz band in my junior year of high school.
Q. Best memory of being in band/marching band?
A. Dangerfield: In my junior year of band, my band directors allowed me to teach two new bassoon players in my own sectionals. Figuring out new ways to explain concepts, and having fun playing the instrument and teaching students how to play it has helped me to realize my passion for music education.
Spratt: My favorite band memory is when the marching band traveled to Disney World in December, 2013 and being able to march on New Year's Eve 2013 on Main Street.
Q. Why is music important to you? What were some of your favorite musical numbers and why?
A. Dangerfield: Music's unique ability to emotionally effect both the listeners and the performers makes me never want to stop playing. One of my favorite musical numbers was "Star Trek." We performed it my sophomore year and I loved it because I'm a big Khan and Spock fan. 'Live long and prosper.'
Spratt: My favorite musical number was "La Sherte de Los Tontos" in jazz band. "Thanks for the Memories" was my favorite marching band song because I love Fall Out Boy.
Q. If you were speaking to a group of students about joining the band, what would be your top reason for joining the band?
A. Dangerfield: Although playing an instrument may be hard work, band is down right fun! Not only do you spend time learning how to play, but band is just like a big family! Everyone knows each other and everyone helps out.
Spratt: Band is a great place to make new friends. It allows you to meet other people that you wouldn't normally get to know in class. It is also a lot of fun.
Q. What college do you hope to attend and your intended major?
A. Dangerfield: Although I am still searching for a college, I am confident that I will be majoring in Music Education.
Spratt: I hope to attend the University of Akron and major in Business.