Austintown library hosts video game creation camp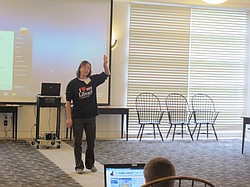 Photo
Neighbors | Tim Cleveland.Youth services librarian Allie Graf introduced the children to what they would be doing during the week-long video game camp at Austintown library.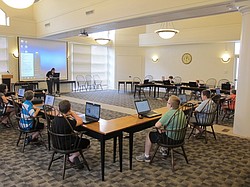 Photo
Neighbors | Tim Cleveland.Twelve children in grades 5-8 signed up for the video game camp at Austintown library. The camp, which was offered July 21-25, taught the children to make their own video games.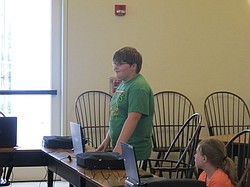 Photo
Neighbors | Tim Cleveland.Daniel Spicer, 12, of Austintown, stood up and introduced himself to the other children who were attending the video game camp at Austintown library.
By TIM CLEVELAND
As part of its continued efforts to interest children in the library and reading, Austintown library hosted a week-long video game creation camp from July 21-25.
"I took a [four-week online] class [last year through the American Library Association] on video games in libraries and all the different things libraries can do to attract those kids who are interested in game design," youth services librarian Allie Graf said. "This was one of the ideas, holding a technology came where the kids can actually design their own computer-based video games."
The camp's registration was limited to 12 children in grades 5-8. Due to high interest in the program, there will be another camp at Boardman library every Tuesday in September from 6-8 p.m.
"We're excited that so many people are interested," Graf said before the start of the first day of camp. "We're going to do it again in September at Boardman."
Graf said the children wouldn't be getting into the process of making games right away.
"Today they're going to be playing video games and then learning some of the basic different components of game design," she said.
Graf said that by Wednesday the children would start building their own games, playing each other's games and providing feedback. The same process would be repeated Thursday and Friday.
Daniel Spicer of Austintown signed up for the camp. He said his favorite games feature zombies.
"When I grow up, I want to create video games," he said.
Graf said she hoped the children would use the camp to perhaps get into video game creation as a career when they got older.
"Hopefully, we will inspire them to maybe pursue this as a career," she said. "We have a book display of books they can take home to learn how to do more computer design or jobs they might be interested in down the road. Also, so they know the library is a place that has more than just books. We've got a lot of fun things going on and we're looking forward to working with these kids."