Weekend offers list of greatest events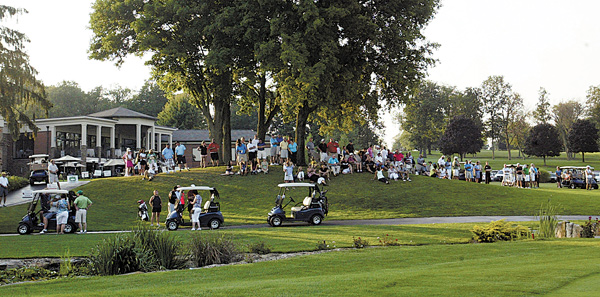 ---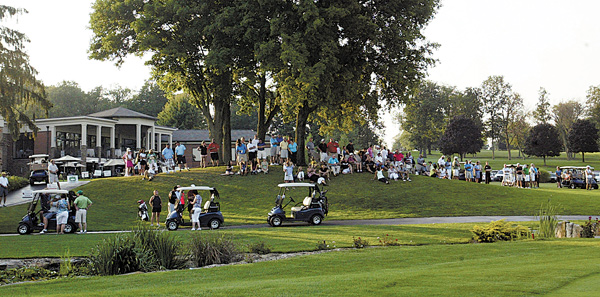 Photo
Members of the gallery congregate at the Greatest Golfer of the Valley finals last year at The Lake Club in Poland, the site of Sunday's 2014 GGOV finals. The tournament begins today at Mill Creek Golf Course.
By Denise Dick
YOUNGSTOWN
Whether it's music, sports, fitness or food you crave, the Mahoning Valley offers something to satisfy most any yen this weekend, with some of the greatest opportunities for fun and entertainment of the summer.
The Vindicator's Greatest Golfer of the Valley tournament begins today at Mill Creek Golf Course with 300 golfers competing for the title. It continues Saturday at Trumbull Country Club, Youngstown Country Club and Oak Tree Country Club before Sunday's championship at The Lake Club.
"We're thrilled that five years into this, it continues to grow," said Todd Franko, Vindicator editor.
A long-drive component was added this year, drawing new people to the event, he said.
"And today, we tee off our original event — the Greatest adult tourney, and it is at 300 golfers for the second straight year," Franko said.
He pointed to the cooperation among golfers, courses and the Mahoning Valley as a whole.
"It showed no better than this week with the rain challenges," the editor said. "Our veteran courses were joined by courses that have never been part of Greatest to devise a plan within three hours Thursday to ensure Mother Nature didn't wash us out. That I think shows Greatest at its best."
Title sponsors are Farmers National Bank, Covelli Enterprises and Superior Beverage. Eleven course partners are involved, led by The Lake Club and Mill Creek Golf Course.
ARAB, GREEK FESTS
If food and culture are more to your liking, the Arab American Festival of Youngstown runs from 10 a.m. Saturday to 1 a.m. Sunday on Federal Street in Youngstown, and St. John's Grecian Festival Glendi runs from 5 to 10 p.m. today and from noon to 10 p.m. Saturday and Sunday at St. John's Church, Glenwood Avenue, Boardman.
10,000 AT PANERATHON
Sunday morning, thousands of runners and walkers will move into downtown Youngstown for the 2014 Panerathon at the Covelli Centre, the fifth such event. Proceeds from the 10-kilometer/2-mile run/walk benefit the Joanie Abdu Comprehensive Breast Care Center at St. Elizabeth Health Center.
Allen Ryan, director of corporate affairs at Covelli Enterprises in Warren, said organizers are expecting about 10,000 participants at this year's event if the weather cooperates.
"Last year, we had 1,500 walk-ups on race day," he said. "A lot of people want to come down, but they don't want to come if it's raining."
Last year's event drew 8,500 participants.
"With the money raised this year, that's $ 1 million raised in the history of the Panerathon for the Joanie Abdu Comprehensive Breast Cancer Center," Ryan said.
Though that is impressive in itself, what's even more impressive is the way the community has rallied around the event to support it and its cause for the last five years despite trying economic times, he said.
Abdu, a St. Elizabeth nurse for more than 20 years, was diagnosed with an aggressive form of breast cancer in 1993 and died from the disease in 1994.
Her husband, Dr. Rashid Abdu, then dedicated himself to planning the development of a comprehensive breast care center at St. Elizabeth.
"Five years ago, through the genius and generosity of Sam Covelli, the first Panerathon was born," Dr. Abdu wrote in an email.
"We expected to see 500 to 600 participants, but 3,000 showed up. The following year, we had 4,000, and then 6,000, and last year between 8,000 and 9,000. This year, we anticipate a turnout of 10,000 or more."
Dr. Abdu said it's become an annual social event for the community, and it's heartwarming to see so many having a good time while supporting a worthy cause.
"I had never dreamed that this would ever happen, but it warms my heart when I see thousands, from our community and beyond, look forward to this annual event where no one is a stranger," Dr. Abdu said. "Had Joanie been alive, she would have asked me not to wake her up from this beautiful dream."
ROD STEWART CONCERT
Just a few hours later, music fans will pour into the Covelli Centre to hear British rock legend Rod Stewart perform Sunday night.
This marks the first Covelli appearance for the rocker, known for his gravelly voice, tight pants and blond, spiky hair almost as much as the hits that made him famous including, "Maggie May," "Hot Legs, "Tonight's the Night" and "Forever Young."
People were lined up in front of the center to ensure they got their seats when tickets went on sale in June.
Kelsey Rupert, director of marketing and sales for the Covelli Centre, said a very limited number of tickets were still available as of Thursday.
While getting the facility ready for a big concert the evening after a major event presents challenges, last year the center presented the "American Idol" show the same day as the Panerathon — "so we know we can do it," Rupert said.
Though Stewart is a bigger name artist than many of the acts that perform at the center, she said preparations haven't involved anything out of the ordinary for a performer at that level.
"This is one of largest events we've had in terms of scaling," she said. "You can expect to see 5,500 to 5,800 people in here."