Michelle Baker, Michael Beck Jr. to wed in Sept.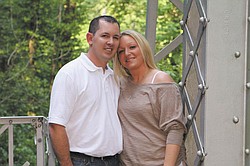 Photo
Michael P. Beck Jr. and Michelle L. Baker
Michelle L. Baker and Michael P. Beck Jr., both of Austintown, are planning to marry, their parents are announcing.
Gary Sr. and Karen Baker of Struthers are the parents of the future bride, and Michael Beck Sr. of Austintown and Debbie Copeland of Alliance are the future groom's parents.
The couple are planning a 2 p.m. ceremony on Sept. 20 at St. Joseph Church in Austintown, and a reception will follow at Avion on the Water in Canfield. Invitations will be extended for both events.
Miss Baker graduated from Youngstown State University with a bachelor's degree in computer information systems. She is a bookkeeper for Blue Beacon Truck Wash in Girard.
Mr. Beck is a general manager for Blue Beacon Truck Wash.