Development of commercial property around racino could take some time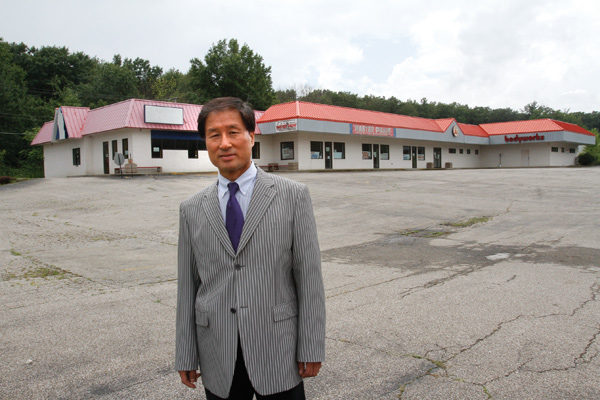 ---

Photo
Moon Park, owner of the strip plaza directly across the street from Hollywood Gaming at Mahoning Valley Race Course, stands in front of his vacant property in Austintown. His property is for sale, lease or investment and sits on 3.2 acres at Silica Road and state Route 46.
By Robert Connelly | rconnelly@vindy.com
AUSTINTOWN
22But some of those signs are familiar to motorists because they've been there for years.
Darren Crivelli, Austintown Township zoning inspector, said, "We've got some inquiries on state Route 46 near the racino, but until someone submits plans, I don't view it as more than an inquiry."
But excitement is building, he said.
"In my 20 years, this is the biggest single project I've ever handled and zoned. We do expect an uptick in interest in that area, and with that Hollywood facility opening in September, it will be interesting to see what happens next year," Crivelli said.
The facility's casino section opens Sept. 17. Racing begins Nov. 24. The racino, at 655 N. Canfield-Niles Road, will feature 850 video-lottery terminals at the beginning and a 1-mile thoroughbred track that will feature winter-season racing. It will employ about 400 full- and part-time workers.
Marathon Petroleum is looking to sell two properties in the area, according to its website. One is 1.56 acres along Route 46, next to Bob Evans Restaurant, 1100 N. Canfield-Niles Road, and sitting in front of the Holiday Inn Express, 5555 Cerni Place. The asking price is $600,000.
The company has another property for sale near the first, 9.35 acres sitting behind Bob Evans and on the other side of Cerni Place from the Holiday Inn Express. The asking price for that parcel is $1 million.
The real-estate agent for those two locations deferred a reporter's inquiries to Marathon's public-relations department, which did not comment.
Another area of interest for prospective businesses moving in is directly across the street from the racino's entrance, a strip mall that used to house Master Park Martial Arts International at the corner of Silica Road and Route 46.
The owner, Moon Park, has owned the 3.2-acre parcel since 2005 and closed the last store in the shopping plaza, Master Park Martial Arts International, a few months ago.
He still has his main martial-arts training facility on Boardman-Canfield Road in Boardman.
Park said he has gotten inquiries from businesses related to hotels, restaurants, dentists and veterinarians, among others.
He is taking inquiries. He declined to give any dollar figures.
"This will be the busiest intersection in the Valley," Park said.
James Sabatine Jr. is handling the leasing of a vacant Burger King at 1101 N. Canfield-Niles Road. He said his company, Sabatine BK Development LLC, has owned the property for about two years now and is looking to lease the nearly one-acre site. "We have a couple of national users looking at it right now seeing if they want to utilize [it]," Sabatine said. "There is definitely some new business kicking around."
He said there have been "quite a few" inquiries from fast-food restaurants, including national brands Chipotle and Chick-fil-A and Girard-based Jib Jab Hot Dog Shoppe.
"You could make that building look brand new in two months. That could happen real quick," Sabatine said. "I think that casino is really going to drive a lot of good momentum over in that area."
Tom Niemi, a broker with Landmark Real Estate Services, has had an acre at Norquest Boulevard and Route 46 for sale for five years with an asking price of $175,000.
He said he believes growth in the township should be between New Road and Mahoning Avenue, which features a lot of office spaces and residential neighborhoods.
Trustee Lisa Oles is a real-estate agent with Lakeside Realty. She said the township auctioned off 21 acres of township-owned property along Route 46 near New Road in late June for the minimum bid of $75,000. There was only one bidder, who Oles said bought it to leave the property as is as he develops property along New Road into a residential home, adjacent to the auctioned-off property.
"Our hope was that we could build a new administrative building there, and when we did the environmental assessment we found 16 acres of wetlands," Oles said. That led to the public auction.
Overall, of property owners along state Route 46, Oles said, "There are people interested in [Route] 46 property, but they are more interested if the could be rezoned commercial."
Oles said her son has 10 acres close to Route 46 and New Road with a gas well and royalties from it. He is selling it for $370,000 with the idea that it will be rezoned commercial at some point.
Crivelli said he also expects Interstate Boulevard, which was put in 20 years ago, to fill up with development.