YOU CAN'T TOP THEIR BURGERS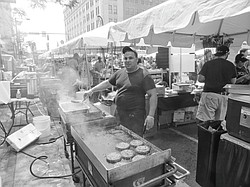 Photo
Dan Martini, owner of Martini Bros. Burger Bar, prepares one of his award-winning burgers during the National Burger Festival in Akron.
By Anthony M. Fuda
The awards keep rolling in for Martini Bros. Burger Bar in Youngstown.
The downtown restaurant won three awards at the Mahoning Valley Battle of the Burgers, which was earlier this month at the Warren Community Amphitheater. That competition was sponsored by the BurgerGuyz, who named Martini's the Burger of the Year in 2010.
On Aug. 9, Martini's picked up three more awards at the National Hamburger Festival in Akron, where the BurgerGuyz served as judges. Among Martini's trophies was a first place for most creative burger for something it calls the Johnny Applewood.
Martini's represented Youngstown at the festival, which included plenty of Akron and Cleveland restaurants and a few national chains.
"The last two weeks have been amazing," said owner Dan Martini. "When you consider how passionate our restaurant is about burgers, the last two weeks have been like Christmas."
The Akron festival featured burgers that had some very interesting combinations and toppings, including shredded chicken, avocado, pineapple, apple slices, sweet potato sticks and balsamic mayo, and even a fried egg.
Another category was added this year: the Healthy Burger. The entries stuck with a bean base, but I have to say the Max and Erma's Chipotle Bean Burger really did stand out.
Here is the complete list of winners. For information, go to hamburgerfestival.com.
Traditional
1st: Sammie's Bar & Grill (Sammie's Sliders)
2nd: Max and Erma's (Great American)
3rd: Legend's (Bulldog)
Cheeseburger
1st: Eat'n Park (Southern BBQ)
2nd: Martini Brothers Burger Bar (Perfect)
3rd: Sammie's Bar & Grill (Heart Attack)
Creative Burger
1st: Martini Brothers Burger Bar (Johnny Applewood)
2nd: Smoke (Georgie Cobb Salad)
3rd: Stray Dog (Barnyard)
Creative Toppings / Special Sauce
1st: Smoke (Dirty Vegas)
2nd: Martini Brothers Burger BarMaui Wowwi)
3rd: Eat'n Park (Teriyaki Hula)
Healthy Burger
1st: Max and Erma's (Chipotle Black Bean )
2nd: Smoke (White Bean Veggie)
3rd: Stray Dog (Veggie)
Festival Favorite: Smoke, the Burger Joint
Festival Spirit Award: Max and Erma's
More like this from vindy.com