Published: Wed, August 20, 2014 @ 12:00 a.m.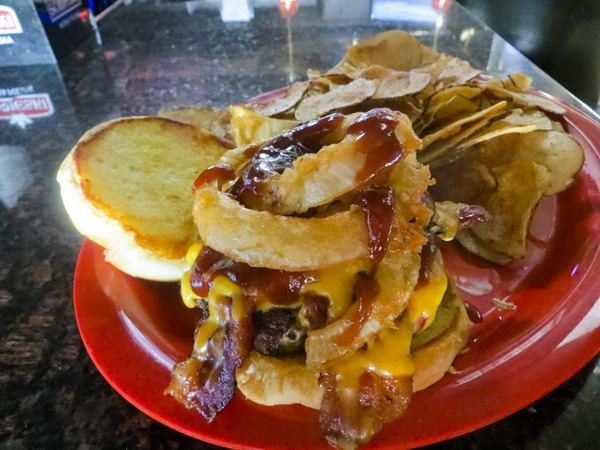 Photo
Western Burger (barbecue, cheddar, ham, topped with onion straws)
If You Go...
Where: Shotz Bar & Grille
Address: 3713 Oakwood Ave., Austintown
Phone: 330-799-2510
Kitchen Hours: Monday through Thursday, 11 a.m. to 11 p.m. and Friday and Saturday, 11 a.m. to midnight
Menu: Nine burgers on the regular menu and specialty burgers throughout the year; $6 to $9.50
Facebook:Shotz Bar N Grill
By Anthony M. FUDA
22Shotz is a hometown bar catering to everyone. The kitchen staff prides itself on serving only the freshest foods.
Owner Chris McFall said, "Shotz is known for our daily, made-from-scratch specials, where you can come and eat a very good homemade meal every day for less than you can make it at home."
Each weekday brings a different special. We went there on, of course, burger night. Every Wednesday you can get $2 1/4-pound burgers and $2 fresh-cut fries.
McFall added: "Shotz burgers are made with a mix of fresh ground round, ground chuck and ground beef with eight different seasonings mixed in. All our produce is fresh from Angiuli's Farms Canfield."
Bartender and server Alyssa Cannell guided us to a table away from the crowd so we could concentrate on the burgers. She also put up with us, which always adds some extra points.
We found the burger section of the menu, and were pleased with the nine selections (you have the option of 1/3-pound or 1/2-pound: Hamburger; Cheeseburger; Western Burger (barbecue, cheddar, ham, topped with onion straws); Hot Shotz Burger (double pepper jack cheese, topped with two jalapeno peppers); Mushroom & Swiss Burger; BLTE Burger (bacon, lettuce, tomato, fried egg); Bacon Cheddar Burger; Classic Burger (shredded lettuce, American cheese, grilled onions, Shotz special burger sauce); and Shotz Slider Burgerz (four 1-ounce burger sliders cooked on a bed of onion, with a pickle on a potato roll).
We also saw two additional 1/2 pound burgers on the Weekly Special board we could not resist: a Smothered Burger (sauteed mushrooms and onions, with Shotz special Provel melted cheese (ordered in from St. Louis), and a Spicy Italian Greenz Burger (provolone and fried Hungarian peppers).
The burgers are nestled between two nicely toasted buttered buns. All the burgers are sided with French fries or pub chips. We split our orders between the two.
The burgers arrived and we were ready to get down to business.
I went with the Spicy Italian and enjoyed the fresh greens with just enough heat from the fried pepper to give this burger the right amount of kick. The burger had a unique seasoning, blanketed by a healthy slice of provolone cheese, and in the end it all worked together. Each bite brought a nice combination of heat, spice and a juicy flavored burger.
Jimmy "Knuckles" went with the other burger off the weekly special menu, and said, " I decided on a "Smothered Burger" cooked medium."
He was intrigued by the Provel cheese, adding: "Sharing in a plate of the Homemade Special Blend Cheese Stix with the Provel, and stuffed Hungarian peppers were a great segue to the arrival of the Burgers! Upon receiving my plate, I noticed a nice sized thick burger truly smothered in mushrooms and onions with a blanket of a melted creamy cheese on a standard grilled burger bun!
"Upon digging into the medium-well, but juicy Smothered Burger, my burger senses immediately got a hint of seasoning, which was sweet and woody with a nice spice, similar to a cinnamon or nutmeg and reminiscent of a classic Frikadellen (German hamburger).
"The cheese on this burger was very smooth and creamy and blended extremely well with the burger and Shotz toppings. The lightly grilled classic bun absorbed the flavor of the beef and toppings, holding up just enough for me to devour the entire 1/2-pound burger in minutes. If you want a nice comfortable place to enjoy a few beverages, a game of pool and some good food served by great staff, head on down to Shotz in Austintown; you won't be disappointed. "
Eric zoned in on the spiciest burger, and said: "I chose the Hot Shotz Burger to maintain my track record of sampling the hottest burger on the menu. Being topped with double pepper jack cheese and jalape ±os, I couldn't say no to that combination.
"From the first bite, I could tell that this burger meant business. The beef had a very unique seasoning that really stood out. The toppings gave the burger a great flavor without overpowering the senses and causing an immediate reach for my beverage.
"Once I made my decision of the burger being delectable, I took it up a level and asked for a little more heat. Our waitress brought me a signature habanero sauce, and it definitely lived up to its name. It was pretty hot yet still managed to not overpower and mask any other flavors, instead complementing it as cheese does to a fine wine. This burger from top to bottom absolutely met my expectations."
Chiz also had the Hot Shotz Burger and noted: "I added some mushrooms (spot on I might add) as I was craving them that night. This burger contained two delightful slices of pepper-jack cheese, and two homemade jalapenos.
"The burger itself was cooked great, and contained a delicious seasoning that had a hint of something sweet that I've never had before. As a previous chef, it was exciting to see (Shotz's chef) Moody take care of that burger.
"I've had some different burgers; however, this guy votes this seasoning "most creative" by far. I destroyed half of my burger in a quick minute, and asked for a side of some habanero hot sauce. That was the kicker. It took this delightful piece from great ... to excellence!
"The sauce really did a phenomenal job of balancing the sweetness. I also was impressed with the French fries and chips, which rarely happens. A++ appetizers, must tries in the St. Louis Cheese Sticks, and stuffed peppers. I'll be going back!!!"
Spatman ordered the Western burger, and said: This 1/2-pound patty was cooked well and seasoned lightly. It was smothered in barbecue sauce and topped with Cheddar cheese, deep fried onion straws, sauteed onions and bacon and placed on a bun, making it a sight to behold. Sided by homemade chips and dip, it was a good meal at a modest price. A 4 out of 5 on my wet-nap scale."
Shotz also has an outdoor patio, where you can enjoy nice evenings with a cold beer and a delicious burger.
After hearing all of this, you know you want to give these burgers a Shot(z).
Keep reading the Valley food section each Wednesday for the best food the Valley has to offer. If you know of a burger that should be on our hit list, send the info to mvbrb@hotmail.com or on our Facebook page BurgerGuyz