Crowd turns out for Jim Tressel's presidential installation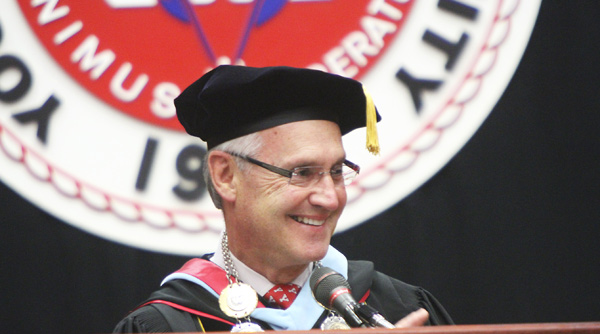 ---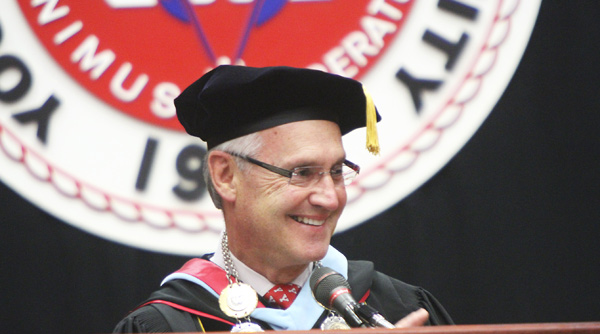 Photo
Jim Tressel is all smiles inside Beeghly Center during the ceremony for his formal installation as Youngstown State University's ninth president.
By Denise Dick
YOUNGSTOWN
Youngstown State University President Jim Tressel believes the university has a lot to be proud of, but he urged the campus community to continue to work to improve excellence.
"Macte virtute" or "be increased in merit" is a phrase to which Tressel has often referred since being selected for the YSU presidency. It's a pattern he continued while speaking at the ceremony Monday, where he was formally installed in the position — the ninth person to have the job.
"We have to make sure we understand the level of excellence that we have, but we have to increase our excellence," Tressel said during his address inside Beeghly Center.
Students, alumni, faculty, politicians, business and community leaders and the public attended the cere-mony.
"Set goals and dreams way beyond what has ever been done," Tressel said.
Tressel, who coached the YSU football team for 15 years before leaving to coach Ohio State, leading both to national championships in their respective divisions, took over the reigns as YSU president in late June.
He previously served for two years as executive vice president for student success at the University of Akron.
Tressel said he learned about leadership from his parents, the late Lee and Eloise Tressel, both of whom were involved in education.
"They taught us that leadership is not a position that you hold but action you take to serve others," he said.
Gov. John Kasich delivered the keynote address, telling the crowd he knows a lot about Youngstown and the values of the people who live here. Kasich is a native of western Pennsylvania.
"One hundred years ago, this was the third-fastest growing city in the country," he said of Youngstown.
Kasich, who is seeking a second term, said he remembers the heartbreak of the region's economic downturn, too.
But he said the downturn is over, and Youngstown is on its way back, pointing to Vallourec Star and Exterran as examples. He also spoke of GM's Complex in nearby Lordstown, where the hot-selling Chevrolet Cruze is made.
Tressel has faced similar challenges, the governor said.
Tressel resigned from his OSU coaching job amid a scandal involving players receiving cash and tattoos for memorabilia. He was accused of withholding information from university officials and NCAA investigators.
He joined the administration of the University of Akron and brought a "jolt of electricity into that whole university," Kasich said.
Then, when the presidency of YSU opened up, "the people of this community, the leaders of this community demanded that Jim Tressel come back home, demanded that he inject the same kind of electricity into Youngstown State," he said.
Tressel is a doer. He has a vision, Kasich said.
"Youngstown is coming back," he said. "Jim Tressel has the leadership and the vision we need."