Published: Tue, August 19, 2014 @ 12:05 a.m.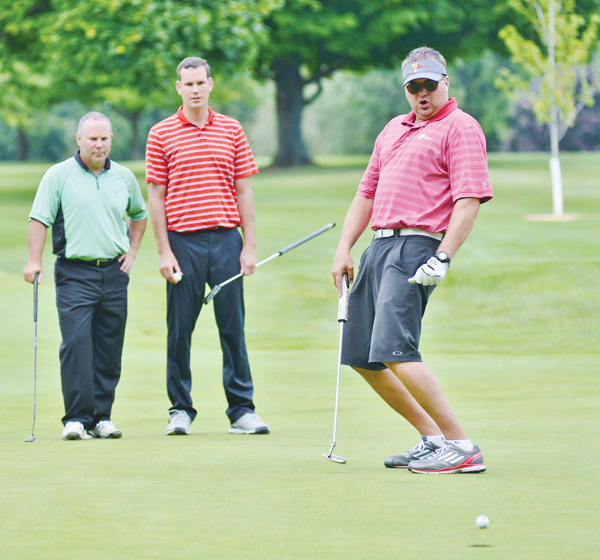 Photo
Eric Ryan of Struthers, right, watches as his putt slides wide of the hole at The Lake Club in Poland on Monday during the 2nd Annual Greatest Scramble championship. His teammates watch in the distance.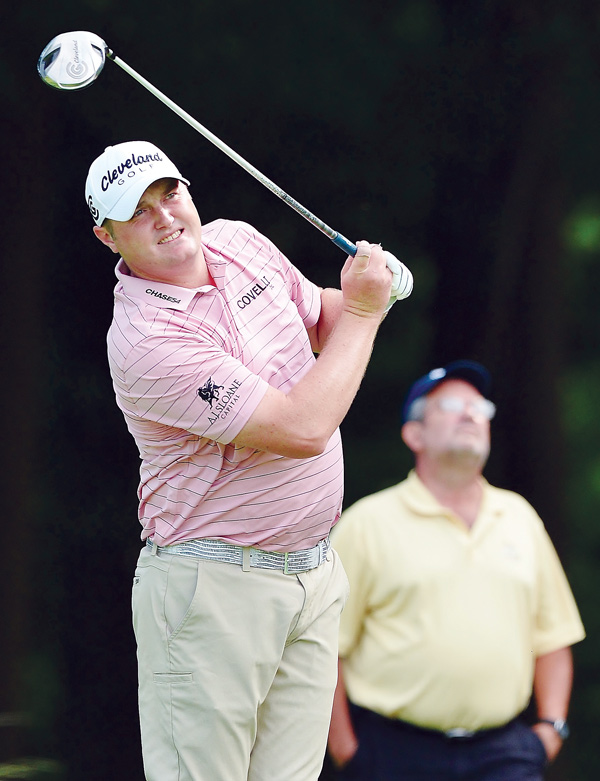 Photo
PGA Tour member and Warren JFK graduate Jason Kokrak watches his tee shot at The Lake Club on Monday during the Greatest Scramble.
POLAND
With the pin locations tucked away in the corner of the greens, and the conditions playing short and fast at The Lake Club, Monday afternoon's 2nd Annual Greatest Scramble Championship was determined to find the true best team in the Valley.
With a little added motivation after a second-place finish last season, the foursome of Bryan Horne, Zack Mansky, Chad Hanysh and Gary Woods shot 15-under par to win the low gross championship.
"You have to make birdies in a scramble if you want to win," said Horne. "Fortunately we made a lot of good shots and we also made some nice putts.
"Normally in a scramble, 15-under is pretty good, but today it was really exceptional because the course played very difficult."
Horne and Mansky have been playing together since they were 8 years old. But after a disappointing runner-up finish in last year's event, the team was happy to come away winners.
"The course set up difficult and you had to be on the right side of the hole," said Horne. "You also had to be very careful with your putts, because they could get away from you.
"It went our way today."
The team of Jonah Karzmer, Steve Sofocleous, Dennis Mikkelson and Dan Ramun earned a net division win with a round of 13-under par.
They snuck into the Greatest Scramble championship through the back door by winning the Poland Touchdown Club event on Saturday. As members of The Lake Club, the four golfers felt they could put a pretty competitive team together.
"It was nice getting to play our home course, and I think that helped a little bit," said Karzmer. "We still lost by two, so it didn't help us enough."
Much like the winning group, Karzmer and Co. made a number of long putts for birdie. Sofocleous chipped in from the bunker to earn the group some extra bragging rights.
"They were definitely tough, but I think last year's pins were actually tougher," said Karzmer. "I really liked it, because they were fair pins. You could get close and make a real good shot, but they weren't putt-putt-ish."
PGA Tour member and Warren JFK graduate Jason Kokrak was in attendance and teed it up with a couple different groups. He drew plenty of oohs and aahs with his distance off the tee, consistently driving the ball more than 330 yards.
"I had fun today," said Kokrak, who's back on the tour after taking time off to rehab an injury. "It's always great to be back in the Valley and there were some pretty good golfers out there today."
The winners of the Kokrak Cup were Lou Lyras, Art Duran, Tom Gemma and Joe Petrolla.
As the Greatest Golfer sponsored by Farmers National Bank nears closer, players like Horne, Karzmer and Ramun can use their success in Monday's scramble to prepare for the individual competition.
"It's a nice start to the week, but I don't know if I'd call it a real warmup because it's a different mentality in scrambles," said Karzmer. "It was nice to get out there and compete."
Horne's been competing in the Greatest Golfer since its inception five years ago. He makes sure he enters as many events as he can.
"It's a great event, it's good for the community," said Horne. "It brings all the better golfers out and it's nice to have a handicap division so everybody can enjoy it."