Sheet & Tube Co. mural project well underway in Campbell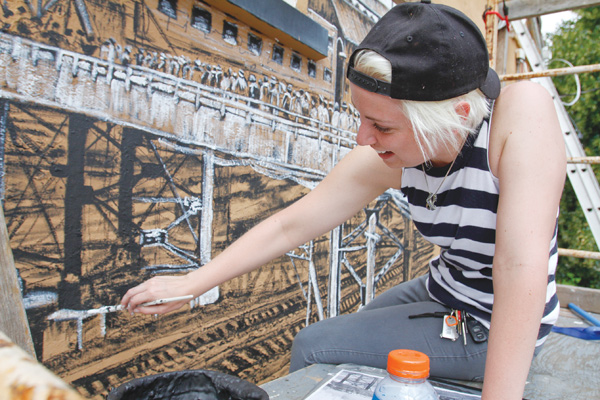 ---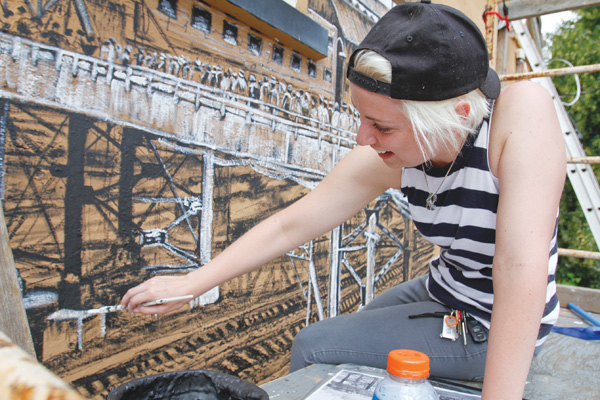 Photo
Katelyn Gould, a Pittsburgh-based artist, formerly of Campbell, paints a mural on a bare wall at the former Youngstown Sheet & Tube Co. workers' housing site in Campbell. Weather permitting, she hopes to have the mural completed Saturday. Gould began painting the mural Aug. 10 thanks to a successful Kickstarter campaign that funded her supplies and travel expenses.
Sheet & Tube Co. mural project well underway in Campbell
By EMMALEE C. TORISK
CAMPBELL
Driving down Chambers Street on Friday afternoon, Arnold Lockett and Arthur Beck felt the need to stop the car and marvel at what was happening in front of them.
The beginnings of a mostly black-and-white mural, stretching about 22 feet tall and 28 feet wide, had overtaken the empty side of a concrete building at Delmar Avenue and Chambers Street.
It wasn't just any building, either. It was one row house of many in the 6-acre complex that was built in 1918 by the Youngstown Sheet & Tube Co. to house steel workers and their families.
Already emerging from carefully sketched and painted lines were the faces of some of those former residents
— a number of whom had flocked to the world's first modern apartment complex when the nearby steel mills were bustling and later left along with them.
But people such as Lockett, who lives on Jackson Street, still call the complex home — and are glad to do so.
"I don't think people know about [its history]," Lockett said. "And if they do, they don't appreciate it."
Beck, who lives in Youngstown, interjected.
"This is our history," he said. "This is the city of Youngstown's history."
That's why they stopped the car.
Katelyn Gould, the Pittsburgh-based artist behind the mural, was hoping for such a reaction.
Months ago, Gould, a native of Campbell, contacted the Iron Soup Historical Preservation Co., which is working to preserve and revitalize the national historic site and owns a number of the units, via its Facebook page. She volunteered her services, hoping to, in some small way, help the nonprofit organization achieve its mission and also to inspire those who still reside in her hometown.
"I wanted to give something back to Campbell," Gould said.
She began bringing her vision to life Aug. 10, thanks to a successful Kickstarter campaign that funded her supplies and travel expenses, and hopes to have the mural finished by Saturday. She'll return to her job as a gallery attendant at the Andy Warhol Museum shortly afterward.
In the meantime, Gould has been working from 8 a.m. to 5 p.m. most days, with the exception of those that rain has cut short.
The six-panel mural, themed "Life in the Company Homes," is based on old photographs taken throughout the decades at the complex and even includes images of her grandmother and her father, who once lived there.
In the mural, she also wanted to depict the steel mills themselves, as well as acknowledge the company homes' past and present.
To accomplish the latter, Gould plans to incorporate into the mural a photograph snapped almost a century ago of several residents standing in front of a neighborhood grocery store, then mimic that photograph with the help of three children who live in the mural-bedecked building. She noted that those children often talk with her and give her snacks as she works.
In all, Gould said, everyone in the neighborhood has been friendly and receptive to the mural project.
"It's been really positive," she said. "There's definitely still a sense of community down here."
She added that in the future, she'd like to work more in public spaces, as "it's nice to have people's reactions while you're doing it."
As for this project, though, she wants it to serve as a reminder of the hard work that so many "put in to achieve these buildings"; the units were built after a Youngstown Sheet & Tube Co. strike, during which workers protested poor living conditions and wages.
"They're a testament to their strong will," Gould said. "I hope [it encourages] people to find their passion in life and go for it."
An unveiling of the completed mural will take place at 5 p.m. Sept. 13, said Linda Gens, executive director of Iron Soup. The event also will include guest speakers and a sneak preview of the museum, located in a soon-to-be fully restored unit at 50 Chambers St., followed at 6 p.m. by food and music — Skullz R Bane and 3 C's — at 2 Reasons Grill and Bar, 6 12th St.
There is no cost to attend the mural unveiling, but the gathering afterward requires the purchase of a $15 ticket. All proceeds will go toward furthering Iron Soup's blight-to-tenancy projects. For more information, email info@ironsoup.com or visit www.facebook.com/ironsouphistorical.
Gens noted that Iron Soup still is seeking sponsors to appear in the event program along with various donations, including an acrylic sheet to protect the finished mural and spotlights to illuminate it at night.
She said, too, that she's simply thrilled with Gould's work.
"We're just amazed at how she captured the essence of life in the company homes. It explains the city, the county," Gens added. "She's single-handedly brought life here."
More like this from vindy.com