Dellick warned about contact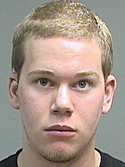 Photo
By Joe Gorman
YOUNGSTOWN
John Dellick received a warning Monday about contacting one of the witnesses in the upcoming criminal case against him in common pleas court.
The warning came from Visiting Judge Michael Nunner after prosecutors asked the judge to review Dellick's bond, where a provision states that he have no contact with any of the purported victims in his case, including an ex-girlfriend, Natalie Noday, whom he had texted and sent a video last month just before his trial in Youngstown Municipal Court on charges he harassed her at Youngstown State University last November.
Dellick, the son of Judge Theresa Dellick of Mahoning County Juvenile Court, was found not guilty of a charge of aggravated menacing. He admitted, however, from the witness stand he had contacted Noday.
Brian Deckert, a senior assistant Ohio attorney general, told Judge Nunner the contact disrupts the court proceedings because Noday is a witness, and the contact could influence her testimony.
Deckert said the phone texts and video Dellick sent to Noday are in the possession of the Mahoning County Sheriff's Office, which is doing its own investigation.
Though Deckert said Dellick never threatened Noday, he did ask the judge to warn him that any more contact could result in his going back to jail.
Judge Nunner warned Dellick about breaking that condition of his bond. Dellick said he understood, and his lawyer Sam Amendolara also said he had a talk with his client.
Judge Nunner added the restriction also is in Dellick's best interest, to make sure he is not accused of meddling in the affairs of the court.
Judge Nunner said if Dellick breaks his conditions again, he could be placed in jail.
Dellick faces charges of kidnapping, abduction and assault stemming from an incident in July 2013 with Noday in Canfield. Police said he agreed to meet Noday at a plaza and when he arrived, he picked her up and carried her to his Jeep. A witness saw Dellick throw the girl into the car head-first, police reports said.
Dellick also faces two counts of felonious assault, a second-degree felony; two counts of ethnic intimidation, a fifth-degree felony; and two misdemeanor counts of aggravated menacing for an Oct. 18 road-age incident in Canfield. He is accused of ramming a man's car, throwing a bottle at the man and his wife and yelling racial slurs at them.
Last week, Judge Nunner agreed to split both incidents into separate trials, with one set to begin in September.
Judge Nunner also heard arguments on a motion by prosecutors to allow three other past road-rage incidents Dellick was involved in but never charged. Two occurred in 2012 and one on New Year's Day 2013.
Amendolara said the incidents would serve to bias jurors against his client, and in two of the road-rage incidents Dellick was never interviewed by police.
Deckert said prosecutors should be allowed to inform jurors of the incidents because they show a pattern of behavior.
Judge Nunner said he will study the arguments and make a ruling as soon as possible.