Law firm says its attorneys did no wrong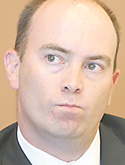 Photo
cleveland
Ulmer & Berne, the law firm that represented the Cafaro Co. in its unsuccessful civil lawsuit to rescind Mahoning County's purchase of Oakhill Renaissance Place, has denied any wrongdoing by any of its lawyers.
The Cleveland law firm also said the county's Oak-hill purchase offer was already a public document when John A. McNally allegedly faxed it to the firm July 18, 2006.
In the Oakhill criminal conspiracy case, McNally, then a county commissioner and now Youngstown mayor, was charged with perjury for allegedly falsely stating under oath that he did not share the county's purchase offer with anyone.
The Oakhill indictment says McNally faxed the offer, which the indictment said was confidential, from his law office to the Cleveland law firm.
Ulmer & Berne issued a news release Monday saying the offer was not confidential when the firm received it and that the offer already had been presented to U.S. Bankruptcy Court.
A check of the bankruptcy- court docket shows the county's offer to buy Oakhill for $75,000 was filed in a July 10, 2006, court document.
"An offer is not confidential when it has already been made a public record," the Ulmer & Berne news release said.
Besides McNally, Mahoning County Auditor Michael V. Sciortino and Atty. Martin Yavorcik are charged in the Oakhill criminal case in Cuyahoga County Common Pleas Court. All three have pleaded innocent.
Yavorcik was an unsuccessful candidate for Mahoning County prosecutor in 2008.
No trial date has been set in the Oakhill criminal case, which alleges a conspiracy to impede the move of Mahoning County's Department of Job and Family Services from then-Cafaro Co.-owned rented quarters on Youngstown's East Side to Oakhill.
The county bought Oakhill for $75,000 in bankruptcy court in 2006 and moved JFS there the following year.
Oakhill is the former Forum Health Southside Medical Center.
Because Ulmer & Berne is not a defendant in the criminal matter, Ohio Supreme Court rules prohibit the Ohio Attorney General's Office, which is prosecuting the criminal case, from commenting on the Ulmer & Berne statement, said Dan Tierney, an AG's office spokesman.