Local departments add military vehicles,gear at no cost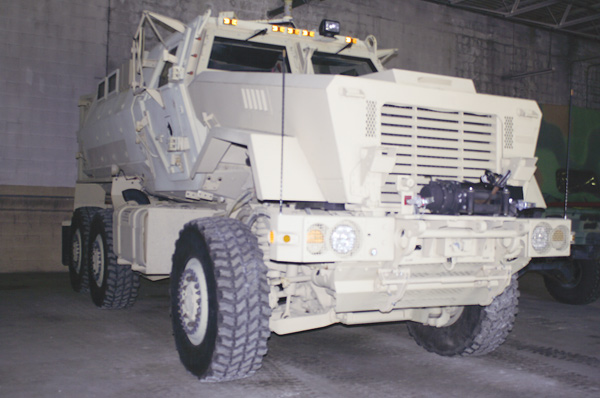 ---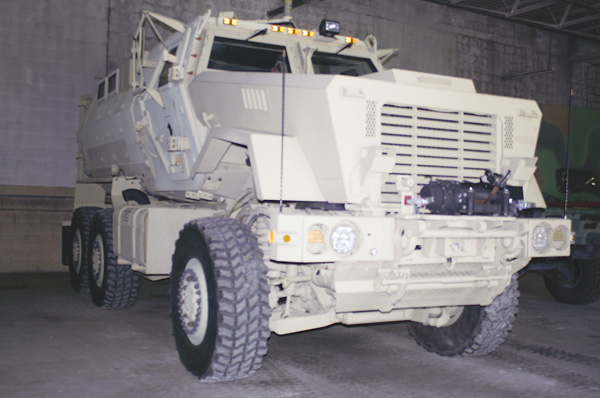 Photo
The BAE Caiman sits in a Boardman Township shed waiting to be outfitted by the township police department. The $737,000 vehicle was obtained through the Law Enforcement Support Office at no cost.
and ROBERT CONNELLY
YOUNGSTOWN
In the aftermath of unrest in Ferguson, Mo., and complaints about the "militarization" of police, area law-enforcement departments also have received free military-surplus vehicles and equipment.
But Valley police authorities reject the notion that local police forces are being militarized.
"A lot of this stuff is not being employed or deployed in a military fashion. ... A lot of this stuff is being used in a utility fashion," said John Elberty, commander of the Mahoning Valley Crisis Response Team.
The Mahoning County Sheriff's Office has received all-terrain military vehicles, a pickup truck, a van, a sport utility vehicle and one M-16 military rifle from the Department of Defense.
The rifle can be set to be used either as a semiautomatic or automatic weapon.
Law-enforcement officers are permitted to carry fully automatic rifles only after proper training, said Maj. William Cappabianca.
One of the Humvees was used for road patrol during heavy snowstorms during the past two winters, Cappabianca said.
The SUV is used to transport guns and ammunition to the firing range; the pickup truck and van are used in the day-reporting inmate work detail program; and the M-16 is assigned to the road-patrol division.
"Thank God, we've never had to use it," Cappabianca said of the rifle.
The sheriff's office has requested up to 30 more free M-16s from the DOD, but is still awaiting word as to whether that request will be granted, Cappabianca said.
The sheriff's office would like the additional rifles so one can be placed in each patrol cruiser, Cappabianca said.
"It shoots [farther], and it's more accurate" than shotguns, which are being phased out, the major said.
"I'd rather have it and not need it than need it and not have it," he said of the M-16.
Among the other surplus items the sheriff's office has acquired free from the Defense Department are three safety and rescue kits, 104 empty military field bags, four digital cameras assigned to the detective and information technology divisions, 19 pairs of cold-weather gloves and 72 pairs of thermal underwear.
The county emergency management agency has not received any military-surplus items within the past five years, said Dennis O'Hara, EMA director.
Youngstown Police Chief Robin Lees said his department has about a dozen military-surplus assault rifles and some ballistic vests, but for the most part the department does not have a lot of military equipment.
The assault rifles are not carried by officers but are stored at the police department in case they are ever needed, Lees said.
Elberty, also a detective sergeant with Youngstown police, said the crisis response team obtained a BAE Caiman, a Mine Resistant Ambush Protected vehicle or MRAP. It was obtained through the Law Enforcement Support Office, and Boardman police also received a Caiman through the same office.
Austintown Detective Sgt. Shawn Hevener handles the military-surplus purchases for the township. He explained the Law Enforcement Support Office is sponsored by the DOD. "It's a good source for law-enforcement agencies that want to save on their budget," he said.
He added all agencies receiving equipment or vehicles from the LESO are required to maintain the parts, but can outfit them however they see fit. When departments no longer see a need with having something, they can put it back into the surplus system.
Both MRAPs are stored at a Boardman Township shed and neither has been outfitted for its intended use. The value of a Caiman is $737,000, and the sticker was still on one of the vehicles.
Elberty said both vehicles came by flatbed truck from Texas in April. He added, "We're going to also kind of use it as a hardened bunker, command post and sit in there with negotiators and technical support."
Boardman Police Chief Jack Nichols said the department plans to outfit the Caiman with emergency lights, seats to hold about 25 people and a new paint job, which will happen in the winter.
The new vehicle came at no cost.
Nichols said, "It was my understanding that if local law enforcement didn't take them, they would just cut them up [and scrap them]."
The Caiman is much larger than Boardman's black armored truck that was donated in 2011 by Brinks, a company known for transporting cash between banks.
The department also has six Humvees through the military surplus, which are primarily used for transporting equipment and people, such as officers going to a practice gun range. Nichols said officers usually go about three times a year.
Nichols said the MRAP would be used if there was an active-shooter scenario at a hospital, school or a shopping mall.
"This vehicle would put probably 25 people in the back of it and keep them safe. No bullets would be able to go through it," Nichols said.
He did acknowledge the growing national concern over militarization of local police departments. "It's nice to know it's there, but I don't foresee it being seen patrolling the streets of Boardman or anything. That's not what it is for," Nichols said.
"There's really not a single negative about it — just the idea that it's there and it can only help," Nichols said.
Elberty said some people that have been involved with standoffs have told police once the vehicle moved out front, they decided to give up.
"When that moves in, they kind of say, 'I think I'm done with this.'"
Elberty said the CRT also has a Humvee and a trailer. That Humvee can be used for going to off-road marijuana-growing operations to transport authorities there, Elberty said.
The Austintown Police Department obtained two Humvees, one for their department and another one for the fire department, through the LESO.
The Austintown Fire Department spent $9,000 to outfit a 1992 Humvee for its needs, and area businesses donated services and time to help keep costs down. It will be used for search-and-rescue operations and brush fires.
Austintown Fire Chief Andy Frost III said the department handles about 30 brush fires a year and an additional 10 calls for EMS and rescue calls off paved roads. The new Humvee replaces two Jeeps that the department has been using for decades — a 1964 Jeep that was purchased from the Howland Fire Department in the 1980s and a 1966 Jeep.
Frost said the cost could have been between $90,000 to $120,000. "We know we can't afford to purchase new equipment, so we have to make this equipment last as long as possible," he said.
Austintown police Capt. Bryan Kloss said the department's vehicle is being used the same way as Boardman's: to transport equipment to a range. Hevener said they have used the LESO for other equipment in the past, but now the only item from the military surplus is the Humvee.
Austintown police haven't spent any money to outfit the vehicle.
"We're not going to spend the money to paint it. We're just going to use it as is, as far as I know," Kloss said.
Contributor: Reporter Joe Gorman.