Police: 17-year-old dead in 'pre-arranged fight" on Winona Drive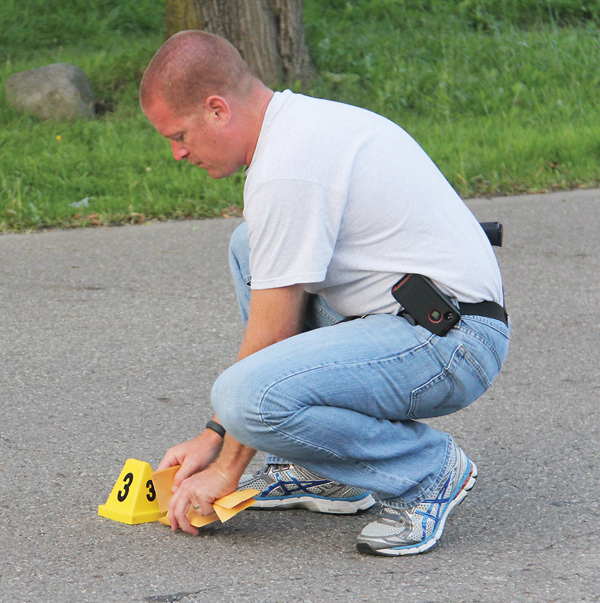 ---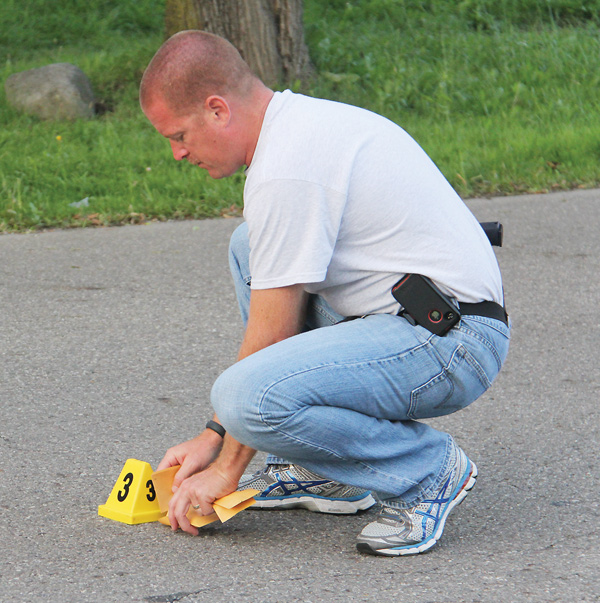 Photo
A member of the Youngstown Police Department collects a gun shell casing as evidence from the middle of Winona Drive on Youngstown's South Side after a shooting there Sunday evening. At least one person died in the gunfire.
By Ed Runyan
YOUNGSTOWN
Shawn Cortez, 17, of Ravenwood Avenue was killed in a 6 p.m. "pre-arranged fight" with other teens on Winona Drive on the South Side on Sunday.
Lt. Doug Bobovnyik of the Youngstown Police Department did not confirm witness accounts that 50 or more mostly young men met on Winona for the fight, but said the number of males involved was "a lot." He said at least eight shots were fired from at least one gun, but many details remain unclear.
He said he didn't know how many shots were fired or whether Cortez had a weapon on him.
Cortez died at St. Elizabeth Health Center of a gunshot wound to the chest. Bobovnyik said police are not aware of anyone else being hit by the gunfire, which one neighbor said was flying all through the neighborhood, causing her to hide behind a tree.
Neighbors said the conflict involved two groups of young males who approached each other on Winona, a short distance west of Glenwood Avenue.
Words were exchanged as were numerous rounds of gunfire, the witness said. Crime-scene markers showed the location of eight shell casings in the 700 or 800 block of Winona.
Police used crime-scene tape to prevent people from entering much of the site of the shootings, but witnesses said the confrontation involved a much larger area and that the gunfire caused dozens of young men to flee in either direction on Winona.
Cortez collapsed a short distance away and was taken part way to the hospital in a car, then taken the rest of the way in an ambulance.
Neighbors told The Vindicator that the victim had been riding a bicycle, but Bobovnyik said he is not aware of anyone involved being on a bicycle.
Detectives interviewed several witnesses Sunday, but they have others to talk to and have not made any arrests.
"Hopefully with cooperation of witnesses, we will be able to piece it together," the detective said.
Bobovnyik said it's unfortunate when young men resort to violence to resolve a conflict.
"Now, one guy's dead and ... usually it ruins two lives — the kid who died and if we find him, the other guy's going to spend a lot of his adult life in the penitentiary," Bobovnyik said.
The death is the city's ninth homicide of 2014. There were 10 homicides at this time in 2013 in the city.