Mr., Mrs. Tully and their family observe 60th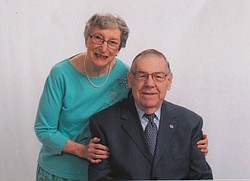 Photo
Mr. and Mrs. Walton J. Tully
NEWTON FALLS
Mr. and Mrs. Walton J. Tully of Newton Falls celebrated the 60th anniversary of their wedding on Aug. 15 with a family dinner in their honor.
Hosts of the event were their daughters, Sheryl Krocek of Berea, Ohio, and Linda Tully of Cleveland. Their son, the Rev. Bruce E. Tully, lives in Ephrata, Pa.
The family includes five grandchildren and one great-grandchild.
The former Marjorie J. Sellick and Mr. Tully were married Aug. 20, 1954, at Glenside Methodist Church in Glenside, Pa.
Mrs. Tully is a homemaker and a member of the Newton Falls United Methodist Church and the Red Hat Society.
Mr. Tully was pastor at various churches in Northeast Ohio before he retired in 1996. He is a member of East Ohio Conference UMC, International Conference of Police Chaplains, VFW Post 3372, American Legion Post 236, and Korean War Veterans 137. He served in the U.S. Army from 1950 to 1952, including the Korean War. He attained the rank of staff sergeant.