Melissa Wright, William Wilson plan Sept. rites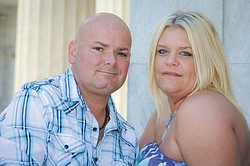 Photo
William A. Wilson and Melissa L. Wright
MCDONALD
Melissa L. Wright and William A. Wilson, both of McDonald, are engaged and plan to wed, they are announcing.
Her parents are Linda Nitzsky of Youngstown and Ron Meffan of Girard. William Wilson and Patricia Wilson, both of Bradenton, Fla., are the parents of the future groom.
The couple plan to exchange vows at noon Sept. 14 at Anna Maria Island, Bradenton. A reception will follow at the Sandbar, also in Bradenton.
The bride-elect attended New Image Dental Academy. She works in accounts receivable at North American Dental Group in New Castle, Pa.
Her fiancé graduated from New Castle School of Trades. He is a maintenance repairman for Northeast Ohio Medical University in Rootstown.