On Target Outfitters targets youth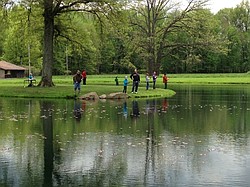 Photo
Neighbors | Submitted.Parents and children enjoyed fishing at On Target Pond at the On Target Outfitters location in Canfield.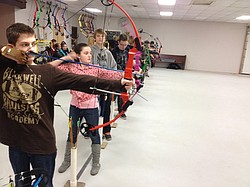 Photo
Neighbors | Submitted.A group of youth try their hand at an archery competition at On Target Outfitters in Canfield.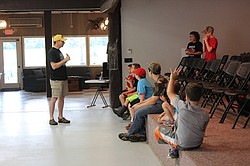 Photo
Neighbors | Abby Slanker.Steve Scott, founder and director of On Target Outfitters, addressed a group of campers taking a break from fishing camp at the On Target Pond on June 25.
By ABBY SLANKER
Steve Scott, founder and director of On Target Outfitters, is right on target when it comes to fulfilling the organizations' slogan, 'Mentoring young people in sport, in life and in faith.'
Last July, Scott, an NRA certified instructor for rifle, shotgun and pistol, a NASP certified archery instructor and an Ohio hunter education instructor, purchased 21 acres in Canfield to take On Target Outfitters to the next level.
"We wanted a permanent place for On Target Outfitters. When we came across this property, we knew we would be able to transform it into exactly what we wanted, all the while thinking of our long-term goals, which will also be possible here," Scott said.
On Target is a non-profit hunting and shooting sports ministry for youth that provides those who might not otherwise get the chance to participate in the sport and tradition of hunting. On Target also mentors young people and outfits them for life, instilling confidence, ethics, values and faith.
"We want to get kids outside and away from their electronics for a while. There is so much to see and so much to explore in the outdoors and woods. We want the kids to have a chance to get dirty and be able to see what's out there. We create opportunities, in a safe and supervised environment, for the kids to try different things, like archery, rifle shooting and fishing," Scott said.
On Target offers summer camps, after-school programs, mentored hunting and fishing, private lessons, special events such as clinics, conservation projects, parent/child events, sportsman's banquets, weekend retreats, birthday parties, speaking engagements and teaching presentations.
"We offer a wide variety of summer day camps which are offered in the morning and afternoon. We have archery camps, rifle camps, fishing camps and an all American outdoorsman/outdoorswoman camp which teaches the campers skills, such as fishing, shooting, lumberjack skills, outdoor cooking and more. Some of our camps culminate in an overnighter, which is fun for the kids and gives them a chance to use their new skills," Scott said.
On Target also offers family activities for the whole family year-round.
"During our family activities, the parents actually get to participate instead of just watching their children. It's so great to see child and parent compete side by side," Scott said.
On Target partners with church youth groups and youth mentoring groups such as Cub Scouts, Boy Scouts, Girls Scouts and 4-H.
"Our main purpose is to mentor young people. As they participate in our activities and learn the outdoor skills, they are building character and learning values. We want them to follow the model of being kind, forgiving and helpful. We are faith-based and teach about our creator while instilling confidence, ethics and values," Scott said.
Scott has several long-term goals for On Target Outfitters, including building a rifle range for youth, starting a plant identification education program and expanding camping and hunting facilities.
"We have received tremendous support, from monetary donations from individuals and businesses, to volunteers helping us renovate our buildings. It is an ongoing process, and we hope to see our long-term goals realized in the future," Scott said.
For more information, contact Steve Scott at 330-423-5101, e-mail otoutfitters@gmail.com, visit www.ontargetoutfitters.org or visit the On Target Outfitters page on Facebook. On Target Outfitters is located at 7209 W. Calla Road in Canfield.