Madcap Productions brings puppet show to Poland library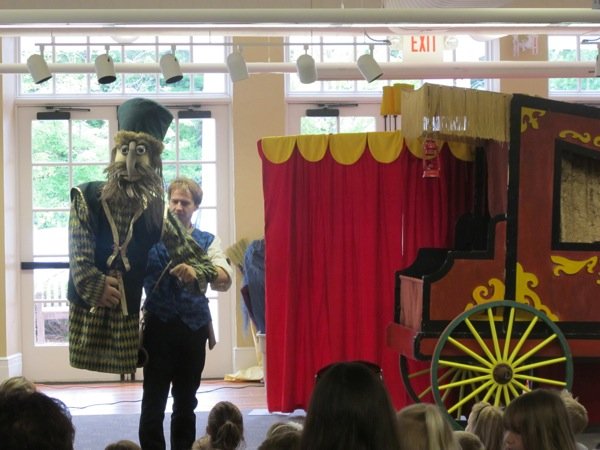 ---
By TIM CLEVELAND
Madcap Productions – based in Cincinnati – brings its Madcap Puppet Show all over the region, with its latest stop July 29 at Poland library.
The one-hour show was performed by Cincinnati's Chance Kilgour and Portsmouth's Cameron Duncan. The show attracted approximately 100 children, plus parents and grandparents.
The show is called "The Enchanted World" and is broken up into three stories – "The Goblin's Ring" [based on a Russian folktale], "Sleeping Beauty" [a French story] and "The Three Prince's Gifts" [a tale from Persia]. Duncan and Kilgour not only act as various characters, they also perform as various puppets.
Duncan and Kilgour have brought the show to Ohio, upstate New York, Michigan, Illinois, Indiana, Kentucky and Pennsylvania, among other places.
Duncan said she just graduated college in May and has been with the show since the first week of June. She has performed approximately 40 shows in those two months.
"My friend who previously worked here said why don't you audition. I got it," she said. "This is the only job I've had so far."
Duncan said that she wanted to be a part of the Madcap Puppet show because she wants to have a career in performance.
"I love cartoons," she said. "I want to be a voice actor. I thought this was one step closer to that."
Kilgour has been with Madcap Productions for about eight months. He has done 75 shows in that time and said doing the show can be physically taxing.
"It's something that I kind of just do in my spare time, make up silly voices and goofy characters," he said. "The biggest challenge comes from the sheer quantity that we do. It's a show that you have to put a lot of energy in it. It's children's theater and everything in children's theater is 150 percent. I feel like doing three or four shows day you're just ready to melt into a bed."
There are different touring groups putting on two different shows. In addition to "The Enchanted World," there is also "Twain's Twisted Tales," a tale based on the stories of Mark Twain. The shows are primarily performed in the summer and fall.
"The message for this show is these stories are from all over the world," Kilgour said. "The overall message of the show is that we are a world of stories and there's a world of stories out there for you to go and discover on your own. This is kind of a window into that world of stories."