Valley groups offer education, awareness so you can ... Join the compost campaign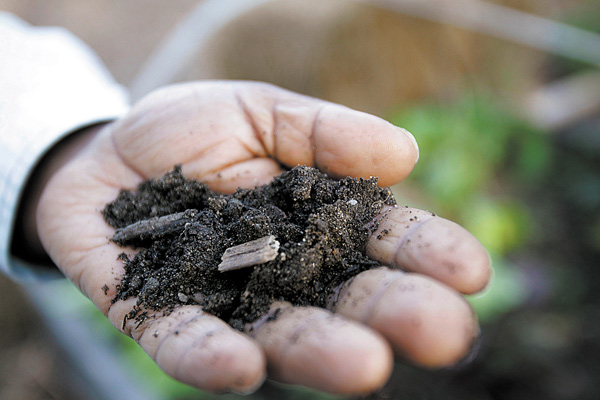 ---
By Elsa Higsby and Megan Tehua
Mahoning Valley Food Policy Coalition
Composting is a great way to turn your kitchen scraps and other "waste" into a treasure for your garden or your farming operation. It's fun, easy to do and provides great organic matter for the clay soil on your property.
Composting should not be stinky. It should smell earthy. It does not take a lot of time. Everything you need is in your home, yard, garden or farm.
A group of organizations here in the Mahoning Valley have teamed up to provide educational sessions and awareness about composting and its benefits.
This yearlong Compost Campaign is designed to heighten awareness through education, awards and organizing about the "how-to" of composting and the potential of local commercial compost operations.
The Compost Campaign is a joint effort of Mill Creek MetroParks' Fellows Riverside Gardens, Goodness Grows, Grow Youngstown, OSU Extension–Mahoning County and the Mahoning County Soil and Water Conservation District.
Here are some of the programs for 2014:
Compost Creator AWARD (9 in total)
The campaign is giving an award to any person, organization or group that makes compost that remains at or above 131 degrees for three days and is turned five times within 15 days. Participants are selected by application and must document the process. Application and data recording sheet for documentation can be found at www.growyoungstown.org. The award includes:
A commercial reotemp compost thermometer.
Notice in publications of all five organizations.
Press release announcing winners.
A chemical/nutrients analysis of your compost.
A biological profile of your compost.
The campaign will loan the thermometers to participants. A total of nine awards will be selected at the end of the campaign.
Composting Class
This four-part series will focus on windrow (long row) and pile composting. The class follows the National Organic Program standards. The first two classes took place Saturday, and Wednesday; the last two will be Saturday and Wednesday. The Saturday class is 10 a.m. to 2:30 p.m.; the Wednesday class is 4-8 p.m. at Fellows. The fee is $50. Register at http://growyoungstown.org.
Compost Business Opportunities: Stakeholder meeting
Each day, thousands of pounds of leftover fruits, vegetables and other organic materials are placed into landfills. Each day, thousands of homeowners purchase compost for their yards and gardens. Thus, a business opportunity awaits the right person who wishes to make a difference and own their own business. Join us for a free stakeholder meeting to learn about the possibilities on Sept. 11, from 1 to 4 p.m., also at Fellows.
For more information, contact Meagan Tehua at 330-549-9408; Elsa Higby at 330-286-0688 or visit our website at http://go.osu.edu/compostcampaign.