East Palestine football players will use custom mouthguards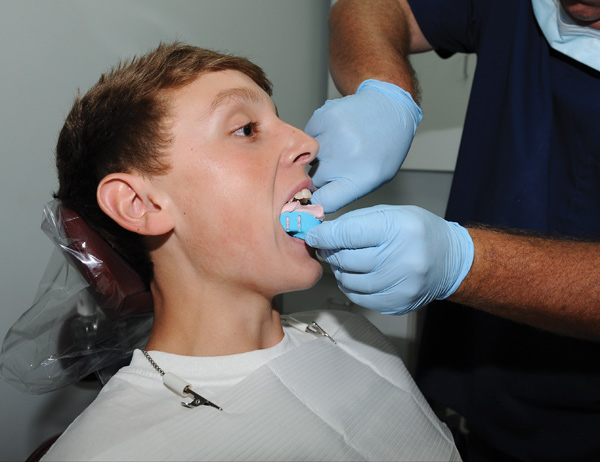 Photo
Dr. Andrew Patton makes a dental impression of East Palestine High School football player Seth Dowd's mouth Wednesday at his office in East Palestine. Every member of the Bulldog team will have their mouths molded for custom fitted mouthguards which the team will be using in the upcoming football season to help reduce the risk of concussions.
East Palestine football players will use custom mouthguards
EAST PALESTINE
The East Palestine Bulldogs will be playing with a special kind of bite this football season.
Each member of the team visited local dentist Dr. Andrew Patton on Tuesday and Wednesday to get their mouths molded for a custom-fitted mouthguard to use this year. Experts believe this type of mouthguard reduces the risk of a player getting a concussion from a hit or on impact after the hit.
"A custom-molded mouthguard is something we've done before for individuals, but never for a whole team," Patton said. "We're very excited to be helping out with the East Palestine football team and getting them all fitted."
The process of getting someone fitted is the same as if they were getting an expander or braces. Alginate — which begins as a powder and turns into a pasty substance when mixed with water — is placed on a plastic mouth-shaped piece and pressed against the top row of teeth. The process is also done for the bottom.
It's held there for at least 30 seconds on both the top and bottom to get the unique impression of each tooth.
For junior Seth Dowd, it was his first time getting any type of molding and he wasn't really excited about it.
"I thought I was going to gag," he said after the fittings were done. "Turns out I was fine, so I guess it wasn't that bad."
The type of mouthguard that's sold in stores and has been used for years allows for a small level of molding. Once boiled in hot water, if you bite down on the rubber mouth piece, it can partially form to your teeth.
However Patton warns against the generic mouthguards since the deepest impression you can get is about a quarter-inch.
"I would just say it's a better mold than the boil-and-bite," Patton said.
The idea for East Palestine to do it as a team came from school superintendent George Fisk after he read an article about a team from the Cleveland area doing it. He then approached athletic director Rick Istnick, who liked the idea and the two got the ball rolling from there.
"I just know how important concussion prevention is nowadays and we wanted to do whatever we could," Fisk said. "Andrew Patton was nice enough to offer his services so we could get it done right here locally."
Once the mold is created, there are two more steps to get it into mouthguard form.
First the mold is filled in with a liquid substance and all the air bubbles are removed. Once that's done it sits until it hardens into a rock-like formation — similar to those made before receiving braces.
The final step is softening a block of rubber enough to place the rock mold on top. A machine is then used to press the mold into the rubber block to create the mouth piece. The final step is cutting the rubber into a mouthguard shape and attaching a strap.
"It's really quite fascinating if you think about it," Patton said. "Whatever can be done to help prevent these kids from [getting] concussions, we're willing to do."
It's important for players to use the strap to attach the mouthguard to their helmets, because of the uniqueness of the fitting. The only way this type of mouthguard can't be used is if a person has braces. In that instance, an orthodontist can provide special mouthguards.
Incoming freshman Robbie Hill has been fitted for a custom mouthguard before, so Wednesday's visit was no big deal.
"I got one from my regular dentist last year and I could really tell the difference," Hill said. "It was just better. I really don't know how else to explain it."
The Bulldogs are hoping their newfound bite will help them on the field in more ways than one this season.