OVI patrols will increase next few weeks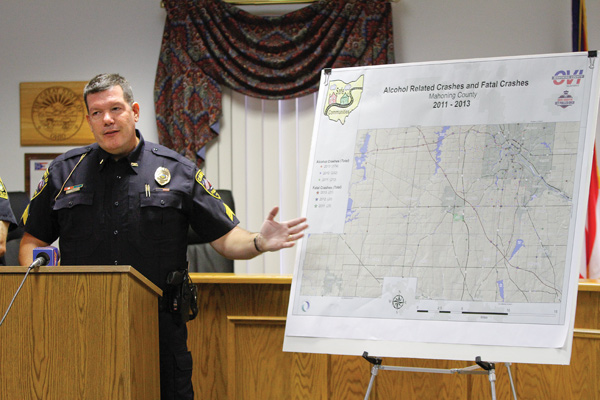 ---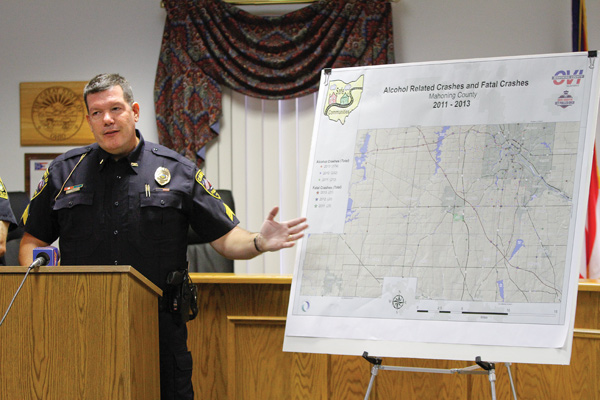 Photo
Scott Weamer, assistant police chief for the city of Canfield, shows where alcohol-related accidents, some fatal, took place in Mahoning County from 2011 to 2013. The Mahoning County Operating a Vehicle While Impaired Task Force had a press conference Tuesday to say task force officers will step up patrols as part of the Drive Sober or Get Pulled Over national initiative.
By Sean Barron
CANFIELD
As you drive through- out the county during the next few weeks, be prepared to see a greater number of police officers along your routes.
"Law enforcement will have a much-stronger presence in Mahoning County during this period," said Scott Weamer, the Canfield Police Department's assistant chief.
He spoke during a news conference the Mahoning County Operating a Vehicle While Impaired Task Force hosted Tuesday at the Canfield City Building on South Lisbon Street regarding staying safe on the roads and avoiding drinking and driving — especially toward the end of the traditional summer season.
Also on hand were officers from 14 police departments as well as a representative with the Cardinal Joint Fire District.
Weamer announced that beginning Friday through Sept. 1, the task force, which is made up of 13 law-enforcement agencies, will participate in the national Drive Sober or Get Pulled Over mobilization initiative.
The two weeks preceding Labor Day tend to have the highest number of people on area roads, which also means an increase in the number of alcohol-related crashes, Weamer noted.
The effort to curb the problem will include three additional checkpoints, local saturation patrols and patrol blitzes, Weamer said, though he did not specify where the checkpoints will be.
Weamer also noted that 178 alcohol-related accidents occurred in Mahoning County last year, down from 264 in 2010.
During that same time, the number of injuries dropped from 118 to 74, a 37 percent decrease, he continued.
Also, 12 alcohol-related fatalities took place in 2012, compared with two last year, an 85 percent drop, Weamer explained.
"I do believe that our efforts are having an impact," he said.
So far this year, Mahoning County has seen four such fatalities, compared with 11 at this time last year, noted Lt. Nakia J. Hendrix of the Ohio State Highway Patrol's Canfield Post.
"We've had four fatalities, but that's four too many," he said, adding that stepped-up enforcement and education have contributed to the decrease.
Also at the gathering was Susan Viars, coordinator of the Mahoning County Safe Communities organization, which provides educational materials to law-enforcement agencies, community events and school-resource officers pertaining to traffic issues, seat-belt use and the dangers of distracted driving.
Additional remarks were from Mayor Bernie Kosar Sr., a former auxiliary officer who praised the OVI task force members for working well and cooperating with one another.