Tour calls attention to mental-illness discrimination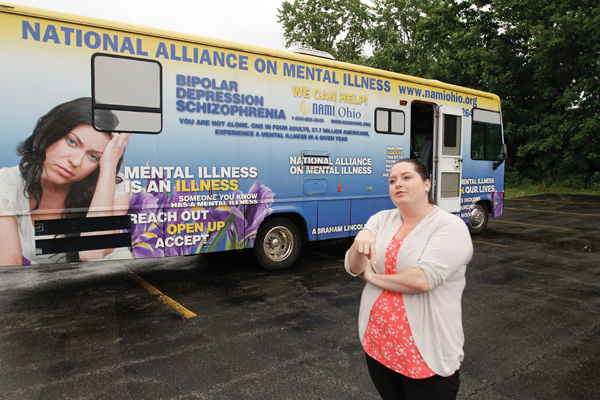 ---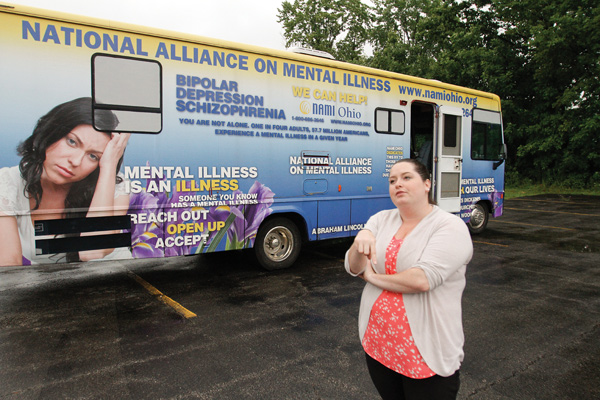 Photo
Katie Dillon speaks to a reporter about the purpose of the NAMImobile anti-discrimination tour. The recreational vehicle stopped in Boardman on Monday.
By Sean Barron | news@vindy.com
BOARDMAN
Robin Williams was a comic genius and an Academy Award-winning actor. His talents endeared him to millions.
But Williams, 63, who died Monday, apparently taking his life, suffered from depression, a mental illness. These other famous figures — President Abraham Lincoln, singer Kurt Cobain, British Prime Minister Winston Churchill and writer Virginia Woolf — also dealt with mental illness yet were esteemed by many.
A much-larger number of people who have chronic depression, bipolar disorder, schizophrenia and other types of mental disorders, however, are stigmatized by many, a mental-health expert contends.
"One in four people [in Ohio] have a mental illness," Katie Dillon noted. "But they are much less likely to be violent than victims of violence."
Dillon, the children and youth outreach coordinator and media specialist for the National Association on Mental Illness, arrived Monday at 8302 Southern Blvd. in a 31-foot recreational vehicle as part of the 2014 Anti- Discrimination Against Mental Illness bus tour.
The NAMImobile is traveling statewide as part of a four-month tour that began in May. The purpose is to end what many in the mental-health field contend is discrimination against those with mental illness and better educate the public, Dillon said.
Discrimination against those with such challenges can be difficult to discern, though.
For example, someone who gets fired from a job might have had too many unexcused absences or disobeyed work rules, yet feel discriminated against because of the illness, she explained.
But many people with mental illness feel they are being stigmatized, which often leads to further depression, despair, anger and hopelessness.
The result can be prolonged hospitalization, employment loss and, in some cases, suicide and death, Dillon continued.
Nevertheless, "Your illness doesn't define you," she said.
Despite greater awareness of and better treatment for the problem, discrimination remains a serious issue, she said.
In a typical 40-hour workweek, the Columbus-based NAMI organization receives 15 to 20 complaints from people who feel they have experienced discrimination, Dillon noted.
"We're moving in the right direction, but we're far from where we want it to be," she said.
Dillon added that NAMI's main office has established a helpline for people who have questions related to the mental-health system, wish to further understand their rights and request additional resources.
The bus tour, which wraps up at month's end, has reached out to an estimated 264,000 people throughout Ohio, partly through media efforts, Dillon said, noting that she expects the NAMImobile to visit all 53 of the state's mental-health boards, as well as 75 communities.
For information and resources, call NAMI at 800-686-2646 or visit its website, www.namiohio.org.