Mr., Mrs. Ulicny celebrate 50th with dinner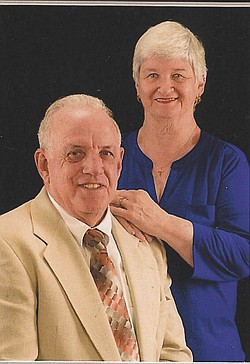 Photo
Mr. and Mrs. William Ulicny
STRUTHERS
The family of William and Dolores Ulicny of Struthers honored the couple for their 50th wedding anniversary with a dinner at J. Liu Restaurant in Worthington, Ohio.
Their children are Alan (Kym) Ulicny of North Tonawanda, N.Y.; William (Mary Pat) Ulicny of Frederick, Md.; John (Katie) Ulicny of Delaware, Ohio; and Steve (Noriko) Ulicny of Osaka, Japan. They also have six grandchildren, Mary, Grace, Jackson, Danielle, Sumire and Mizuki.
The former Dolores Sabol married Mr. Ulicny on Aug. 1, 1964, at Holy Trinity Church, where they are members and pirogi volunteers.
Mrs. Ulicny retired in 2004 from A. Porter Travel Services, where she was an administrative assistant.
Her husband retired in 2005 from Quest Diagnostics in Boardman, where he was a route representative/manager. He also worked for "Automatic" Sprinkler Corp. of America in Youngstown as a fire protection designer.