Inaugural golf outing to aid local soldiers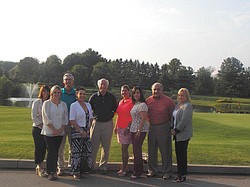 Photo
SPECIAL TO THE VINDICATOR Those helping to organize the Freedom Warrior Golf Outing are, from left, Christine Bell, general manager of Avalon Lakes Golf and Country Club; Kerry Zuzik, catering director at Avalon; Jeff Shaffer, membership director of Avalon; Susan DeLeo; Ron Klingle, chairman of the board and chief executive officer of Avalon Holdings Corp.; Lisa Dickson of YARBCC; Renee DiSalvo, vice president of YARBCC; Remon Hayek of YARBCC; and Dawn Thompson of Governor Insurance.
Staff report
The Youngstown Air Reserve Base Community Council and Avalon Golf and Country Club will present Freedom Warrior Golf Outing on Aug. 22 at all three Avalon Courses: Avalon Lakes, Squaw Creek and Avalon at Buhl.
The goal is to raise $250,000 to help wounded soldiers and disabled veterans from the Mahoning and Shenango valleys. Part of the proceeds will help provide scholarships to families of the employees of the Youngstown Air Reserve Station.
Sponsorships from local businesses and individuals are needed to help meet the goal. All of the registration fees will directly benefit soldiers from our community who have sacrificed for our freedoms. In addition, donations are tax deductible.
For information contact Lisa L. Dickson, YARBCC Golf Outing co-chair, 330-509-9603 or email lldickson@roadrunner.com.
Sponsorship levels follow: Stars & Stripes, $15,000; Red Sponsor, $7,500; Blue Sponsor, $5,000; White Sponsor, $2,500; Hole in One sponsor, $750; Hole Sponsor, $150; Foursome, $1,000; Individual Golfer, $250; and Evening Event (included with golf), $50 per person.
The format will be a four-person scramble. Registration will begin at 9 a.m., along with breakfast pastries and a mimosa bar.
Play will begin at 11 a.m. with a shotgun start. A boxed lunch is provided. Steak dinner and awards with open bar will begin at 4:30 p.m. Refreshments will be served on the course.
At 7 p.m. the evening event at Squaw Creek will begin and feature open bar, heavy hors d'oeuvres, live music and fireworks.
Mail sponsorships and donations to YARBCC Charitable Fund, c/o Jerry Lyda, P.O. Box 75, North Lima, OH 44452.
More like this from vindy.com